CHICAGO – Last week, quarterback Cam Newton said two Carolina turnovers that led to Eagles' touchdowns were "layups" for the visitors.
Sunday against the Bears, two Panthers' turnovers led to dunks.
The opening possession of the game was going just as the Panthers had planned. They marched into Chicago territory and called an option play on first down from the 24-yard line. But rookie wide receiver Curtis Samuel dropped the backward pitch from Newton, and Bears safety Eddie Jackson scooped it up for a 75-yard score.
"I've got to make that play," Samuel said.
Early in the second quarter, another promising series ended in disaster. Newton's third-down slant pass to wide receiver Kelvin Benjamin was broken up by cornerback Prince Amukamara, sending the ball high into the air. Jackson corralled it and raced 76 yards for the score.
"I thought (Cam) had his moments," Rivera said of his quarterback who went 21-of-34 for 211 yards while adding a team-high 50 yards rushing. "The pitch wasn't his fault. That ball should have been caught. We'll work on it and get better at it. And then the ball (to Benjamin) ricocheted in the air, again, not his fault."
But Newton had a costly miscue in the third quarter as the Panthers were threatening to make it interesting. On first-and-10 from the Chicago 45, running back Christian McCaffrey was uncovered cutting across the middle. But Newton's throw sailed over the rookie, and a big chunk play – perhaps even a touchdown with McCaffrey's run-after-catch ability – was missed.
"Just a bad throw," Newton said.
Five plays later, Newton was stopped short on fourth-and-2 from the Bears' 25-yard line, their 17-3 lead secure.
"He knows it too. I saw his expression right after," Rivera said of the costly miss to McCaffrey. "He knew that if he brings it down to Christian it's a big catch."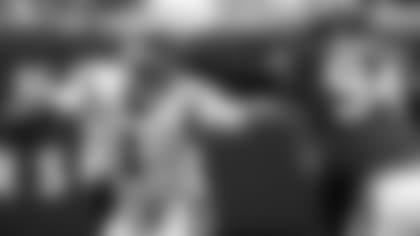 The big plays haven't been there like they were two and three weeks ago at New England and Detroit when the Panthers totaled five plays of 20-plus yards in each of those games.
A 37-yard pass to Benjamin on the final play of Sunday's first half was the Panthers' only play over 20 yards. Last week against Philadelphia, the Panthers failed to produce a play over 20 yards.
Carolina didn't necessarily need explosive plays to beat the Bears on Sunday. Even after turning the ball over twice and spotting Chicago 14 points, the Panthers just needed a few sustained drives to get back into it.
But they never reached the red zone in the second half, let alone the end zone.
"There's no excuse not to come in and find a way to win this football game," Newton said. "We squandered that opportunity."
"We have to get the job done, and offensively we didn't. We didn't get an opportunity to get in the red zone and that's unacceptable. We will and have to be better."
View the top photos from Panthers at Bears by team photographer Melissa Melvin-Rodriguez.