On the week out west: "It's been a long week. It's been a long week. We just have to stay true to who we are, and we've been having a great week of practice. Keep the tempo up and try to find ways to win."
On facing Seattle: "It's game where execution is going to be key. Valuable real estate as far as protecting the ball, field position and just doing the little things right. That's going to make a big difference in the game."
On Richard Sherman's karma comment: "It's irrelevant what he says right now. I have a lot of respect for Richard. And I don't think that has anything to do with karma – an opposing team's flag was in my stadium."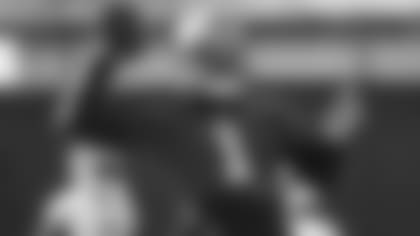 On his motivation now:"Winning. Same as it's always been and same as it always will be. Just finding ways to win."
On practicing at San Jose State: "Nothing different, just practicing. I don't want to make anything out of it. We have to find ways to create our own luck, starting with this game right here."
What he likes about playing the Seahawks: "The attitude. Just from the outside looking in, it just looks like when everything is going right, they are having fun. Same for us. I always respect these type of battles and actually look forward to it."
On the season:"It's not one thing that has resulted in the position where in now. It's a culmination of things. And starting with myself, we all can be better. I don't think we're playing great team ball at times. We have get back to offense, defense, special teams playing together... We have a great locker room where guys are sticking together, and it's still a great atmosphere. But in-game, when the offense scores or when the defense makes a stop, we have to be hand in hand creating success. That's been our lull up to this point."
View photos of the Panthers' week of practice leading up to their game against the Seahawks.