CHARLOTTE -- Quarterback Cam Newton's road back from shoulder surgery continued in the defense's portion of the Panthers' locker room.
Because Newton had tossed a football thousands of times in his life, it was a somewhat silly scene. Multiple cameras milled about while Newton, with a long-sleeved shirt tucked into his shorts, readied to play a short, simple and scheduled game of catch with head athletic trainer Ryan Vermillion. But this is what happens when so much of a franchise's hopes rest on one player's shoulder. And that's why this seemingly little deal was bigger than a couple of guys playing catch.
"Cool," Newton said when asked how it felt to throw for the first time in nearly six months, "a lot of anticipation. Obviously, it's still not 100 percent, but seeing the ball come out of my hand in a throwing motion was good."
In all, Newton threw 45 passes to Vermillion in sets of 15 tosses from three different throwing positions. The farthest throw traveled about 10 lockers, from Luke Kuechly's to Kawann Short's. So, yeah, this wasn't the equivalent of Newton escaping a rush before launching the ball downfield. But it's exactly where the Panthers hoped he'd be at this point in his recovery.
"When I say it's not 100 percent, I'm noting the range of motion part," Newton said. "Like if you sleep with your legs hanging off your bed the whole night, you're going to wake up and be super stiff. Or like sitting on your hands, or sitting in an awkward position and finally getting up and moving – that's how I feel."
Which may be slightly better than he felt on New Year's Day when Newton's most disappointing season wrapped up in Tampa Bay. That game was the fourth he played with a partially torn rotator cuff, a decision that in retrospect seemed unnecessarily courageous considering Carolina's place outside the playoff picture.
"I knew something was wrong," Newton recalled. "I knew it was going to hurt, continuously hurt. No matter what the treatment was, it takes just one hit or fall and it's going to inflame again. And it did.
"Some of it was stubbornness, but I wanted people to know what I'm willing to do for this franchise. At the end of the day, no one could say I quit."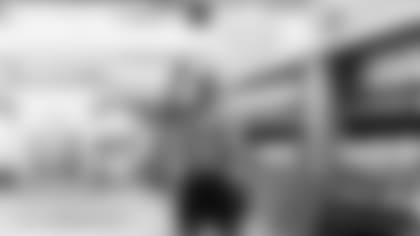 But that wasn't the only call that left Newton and the Panthers open for second-guessing. He underwent surgery on March 30, nearly three months after the season. Sure, with the benefit of hindsight, it would have been better to get it done sooner. But operating on a quarterback's arm is pretty much dead last on the list of ideal options.
"I figured it would heal on its own," Newton said. "I was trying to get the proper treatment, overtreatment. Get it stretched, get a massage, get the ice, stem, everything. Over time I was like, 'You know what? It's just not getting better.'
"So when I came back to Charlotte, I got another MRI, and by that time, everything had pretty much cleared up. It wasn't as swollen as it was during the season so they could see and it showed up as a partially torn rotator cuff."
So Newton is now just beginning a throwing program with Vermillion – just like the original timeframe spelled out. They'll continue their one-on-one sessions for four weeks, and if all goes well, Newton will be cleared to throw to teammates exactly one month from today during the Panthers' first practice in Spartanburg.
"I want to be 100 percent come training camp. There's no doubt that I will be," Newton said. "Shoot, in two weeks, I'll be ready to rock and roll.
"It's just the stiffness, getting the range of motion back, strengthening those joints and the arm. Hopefully, with no setbacks, we'll be good."
View photos of quarterback Cam Newton tossing passes for the first time since shoulder surgery.