CHARLOTTE – Cam Newton isn't the reminiscing type.
He loathes talking about the past and usually dodges reporters' attempts to get him to analyze moments or mistakes well after they've happened.
But after working on the side Wednesday while his teammates went through the third day of offseason workouts, Newton admitted he's wondered whether playing the final four weeks of last season with a partially torn rotator cuff was worth it.
"But at the end of the day, I felt as if there was another thing that was achieved," Newton said.  "I wear the 'C' patch on my jersey with great pride, and I feel as if it comes around again, would I reconsider it? Yeah, but also knowing those guys that I'm going to give every single thing that I have to give for this game, for the fans, for my teammates, especially."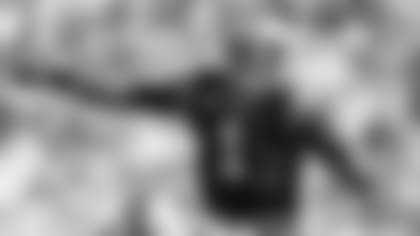 Three weeks removed from undergoing surgery on his throwing shoulder, Newton isn't on the same program most of his teammates are this spring. Instead, he's following a cardio-heavy plan put together by head athletic trainer Ryan Vermillion.
"I'm getting the mojo back," Newton said, sweating through a Nickelodeon-themed Under Armour hoodie. "It's not as tragic as some people made it out to be. But I'm still being a professional about it - still getting treatment and making sure I'm getting stronger with the rest of my body as well.
"RV is doing an unbelievable job with managing a lot of things, but I'm still trying to maneuver and add different aspects that may be pushing the pendulum, but it's just that push to get back."
While Newton wants to hit "fast forward" on his rehab, he isn't expected to be allowed to throw until late June but remains on track for an all-clear by the time training camp opens a month later. So as long as there are no setbacks, Newton's insistence on playing through an injured shoulder shouldn't have much of an effect on a new season.
"Was it smart? People may say it wasn't, but at the end of the day, I think the bigger picture was I'm one of the leaders on this team," Newton said. "I just want to set a good standard that, listen, the team comes first and I'm just going to put myself in position to try to lead this team as much as possible."