CHARLOTTE – Cam Newton's media availability at the end of veteran minicamp Thursday consisted of a hit-and-run introduction of just-arrived rookie running back Christian McCaffrey.
"I'm going to knock mine out of the way first. I'm not waiting behind no Christian McCaffrey," Newton said with a smile to the media gathered around to talk to McCaffrey. "I know we've all been waiting on Christian, including myself.
"OK, ya'll don't have any questions?" Newton asked, barely finishing the last word before stepping aside and turning the floor over to McCaffrey.
The first-round pick's lone practice with the veterans (he sat out the first 12 because of league rules related to college calendars) put him behind virtually everybody in terms of practice time but ahead of Newton.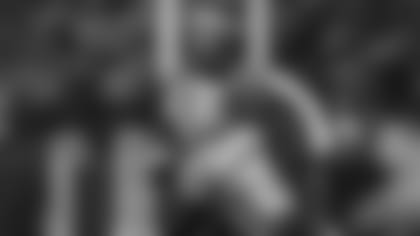 The Panthers' starting quarterback was at all 13 practices that wrapped up the offseason program, but he was an armchair quarterback, not allowed to throw as he worked his way back from offseason shoulder surgery.
"Those guys haven't had the reps that are needed, but we installed exactly what we're going to install in training camp, and I thought the installation went very well," head coach Ron Rivera said when asked if he had any concern about the offense possibly being behind given the reduced roles for Newton and McCaffrey.
"No," Rivera flatly said to the suggestion. "The players have done the things that needed to be done."
Rivera said last week he thought Newton would throw this week but added that even he wouldn't know until head athletic trainer Ryan Vermillion made the final determination. Newton didn't throw this week, and that's in line with the original timetable following surgery that called for him to begin throwing next week.
Thursday, with virtually all eyes on McCaffrey during position drills, Newton went through some footwork with his fellow quarterbacks. He probably could have thrown a pass without anybody taking note. But he stopped short – something that won't be the case much longer.
"I'm hoping it's soon," Rivera said, citing his tendency to be overly optimistic. "It could be tomorrow. It could be next week. It's really what Ryan Vermillion and the doctors think is necessary.
"At this point, he's right where he needs to be."
Of course, any throwing Newton may or may not do between now and training camp won't be for public consumption. On the last day of the offseason program, however, the Panthers found another way to make what could be Newton's final round of mental reps valuable. Ever vocal while watching the offense throughout the offseason, Newton used his voice in a different way.
"We gave him control of the mics, and he called plays today," Rivera said. "He talked with Coach (Mike) Shula. They were moving the ball, and Cam controlled it. He made the calls, he communicated with the quarterbacks.
"He had a big smile on his face when he said, 'I'm not sure if I like doing this. I'd much rather be told what to do.' But I think that was good for him, to get to really see what a play caller goes through."
Soon enough, however – and certainly soon enough for the offense to be up to speed come the regular season opener on September 10 – Newton will get his wish. He'll put down the microphone and the virtual pompoms, put on his helmet and pads, and put the offense in position to win games.
View photos from the third and final day of Carolina's mandatory minicamp.