CHARLOTTE – No quarterback in NFL history has rushed for more touchdowns than Cam Newton. And he's just started Year Six.
"It's fun to watch, that's for sure," offensive coordinator Mike Shula said. "We sit up there in the box and we're coaching him, but we also become spectators too. We sit back and say, 'Wow.'"
A 2-yard rushing touchdown against the Broncos in the season opener was Newton's 44th, surpassing Hall of Famer Steve Young for the record.
Newton rushed for 14 touchdowns as a rookie in 2011, a single-season record for quarterbacks. He rushed for eight scores in 2012, six in 2013, five in 2014 and 10 in 2015.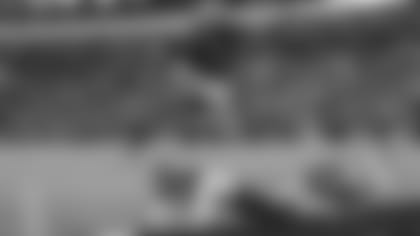 "The closer he gets to the goal line, the more urgency he has for helping our offense get the ball in the end zone," Shula said. "He takes a lot of pride in scoring on a rushing touchdown. He's an incredibly gifted player physically and instinctively with just finding ways to get in the end zone. That's why he has the record."
Here's a look back at one touchdown run from each of Newton's first five seasons.
2011: 49-yard TD run vs. Buccaneers
Newton showed off his game-breaking speed during a blowout victory over Tampa Bay. He kept the ball on a zone-read, burst up the middle, eluded the safety and stiff-armed a defender across the goal line for an electrifying 49-yard touchdown.
2012: 72-yard TD run vs. Falcons
The longest touchdown run of Newton's career came on a zone-read against the Falcons. Newton ran through a big hole on the left side and raced down the sideline. Three Falcons defenders closed in on him around the 10-yard, but he stayed on his feet before somersaulting spectacularly into the end zone.
2013: 7-yard TD scramble at Vikings
This was an example of Newton's ability to make something out of nothing. Minnesota had everything covered, so Newton fought off a defender in the pocket and ran through the heart of the defense for the 7-yard score.
2014: 12-yard TD run at Bengals
Pure Newton power on display in the red zone against Cincinnati. Newton took the shotgun snap and darted to his right, driving through linebacker Vontaze Burfict to cross the goal line.
2015: 2-yard TD flip vs. Texans
You'd be hard-pressed to find a better 2-yard touchdown run. Newton flipped over Houston safety Rahim Moore and nearly stuck the landing in the end zone. The fact that a 6-foot-5, 245-pound quarterback could pull that off left everyone in the stadium in awe.