SANTA CLARA, Calif. – When the Carolina Panthers and quarterback Cam Newton have the type of special stretch like they did at the start of the second half Sunday in Oakland, the inevitable question comes: Why can't Newton and his team play like that all the time?
That's not how the NFL usually works, but Newton knows he must continue to work toward that goal in a league where games are seemingly always close and in a season where the Panthers seemingly are always close-but-no-cigar.
"The third quarter was dominant for us. We just have to keep that same mentality," Newton said. "With how this game was going, with so many momentum swings, we took their best shot and they took our best shot. We knew it was going to come down to that type of finish, but that's just what happens."
Last season, Newton and the Panthers managed something rare in the parity-filled NFL, managing to be dominant most of the time and consistently good in close games to go 15-1 in the regular season and advance to Super Bowl 50.
Sunday, after the team struggled for a half and then surged for a half, the Panthers fell to 2-5 in games decided by three or fewer points and fell to last place in the NFC South.
"Cam has done everything he can to give us a chance to win," head coach Ron Rivera said. "He's had his moments that have been disappointing, but let's remember that coming off a big year, expectations were high.  We've lost five games by three points or less this year. That's disappointing, and we're in the situation we are just because we haven't gotten it done."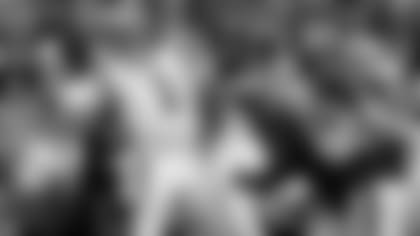 Newton and the entire team struggled in the first half. He completed just 3 of 11 passes for 18 yards, a frustrating half capped by an interception that the Raiders returned for a touchdown to claim a 24-7 lead.
The deficit, however, didn't shake Newton's resolve.
"Just keep playing," Newton said. "I've been playing this game long enough to know that the tables will turn sooner or later, and they did.
"We've just got to find a way to keep the table in our favor."
Rivera complimented Newton's confidence level coming out of halftime and how his coaches – offensive coordinator Mike Shula and quarterbacks coach Ken Dorsey – helped maintain that mentality. The perseverance paid off in the second half, when Newton directed the offense to four consecutive touchdown drives, completing 6-of-10 passes for 170 and two touchdowns along the way.
"Really you don't have to say much to Cam. He's got a short memory. He moves on. He's resilient," Shula said. "The conversation was short, just talking about it being a whole new half and forgetting about what happened."
After Carolina's inspired comeback, though, it was the Raiders' turn to rally, delivering another blow to the Panthers' pursuit of a fourth consecutive playoff appearance in the process.
"The first half wasn't great, but we battled back and took the lead," Newton said. "We just have to do better as a whole."
View the top photos from Carolina's loss at Oakland by team photographer Melissa Melvin-Rodriguez.