CHARLOTTE – For quarterback Cam Newton, the news that one of his top targets/best friends no longer plays for the Panthers is still fresh.
"I pretty much found out when y'all found out," Newton told the media Wednesday, less than 24 hours after wide receiver Kelvin Benjamin was traded to the Bills. "But I don't want to dwell on that. Obviously it's emotional in nature, but that can't be a distraction for our preparation this week."
You could almost sense Newton processing Benjamin's departure as his press conference continued. By the end of the seven minutes, he seemed to be in a better state of mind. So by Sunday, when an always emotional showdown against his hometown Falcons kicks off, he'll be ready.
"Offseasons are better when we beat Atlanta – let's just say that," Newton said. "Our preparation for Atlanta is still going strong. We had a great practice today and are looking forward to a great practice tomorrow.
"When I get outside of my emotional state of mind, everything will be back to normal."
Earlier this season, head coach Ron Rivera embraced the phrase "new normal" for Newton, using it to describe how the Panthers planned to manage his reps throughout the practice week coming off shoulder surgery.
Now Newton must adjust to another "new normal" – one without a close friend by his side. Newton and Benjamin bonded quickly upon the wide receiver's arrival in 2014, and that never wavered. When Benjamin snared a touchdown pass early in the Panthers' preseason opener on the heels of a tumultuous offseason, not even Benjamin was as happy to see it as Newton was.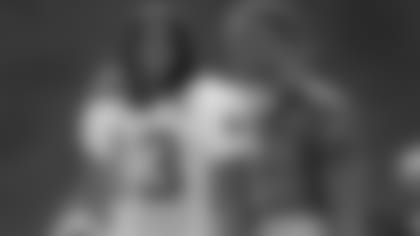 "You're always concerned when people move on, but that's a part of the game, the nature of the game," Rivera said. "It would be the same thing if somebody got hurt. It's just one of those things. We have to soldier on. We have move and go forward, and I believe he will."
Newton didn't offer much input when asked how the potential injection of more speed into huddle might benefit the offense ,or how the team can use the experience of being without Benjamin during the Super Bowl season could help this time around.
"No speed, with speed, I have one job and one job only – that's to try to find ways to win football games," Newton said. "I think we're good. We're in the right place. At the end of the day, it's a business. You think Atlanta cares about that? My feelings are irrelevant.
"We've got one job to do, and that's winning football games. I'm up to that task. It's hard when you have emotional attachments. That happened with Benji, happened with Joe (Webb), happened with a couple of guys. I took it hard, but at the end of the day, life goes on."
As for Newton, football is a big part of life.
"There's still going to be football on Sunday," Newton said. "It's gone. It's done. It's over with. It's time for us to move on, hard as it may be. We've still got a football game to play.
"As a unit, we're going to be better from this because we all have faith in this whole process."
View photos from the week of practice leading up to the Panthers' game against the Falcons.