Preseason opener in Baltimore:This episode gave fans an all-access pass to Carolina's preseason opener against the Ravens.
Cameras captured the team's travel from Charlotte to Baltimore's Inner Harbor and went inside head coach Ron Rivera's team meeting at the hotel.
The sights and sounds on game day were highlighted by Rivera's passionate pre-game speech in the locker room.*                                          *
"Everything you do matters! The preseason matters! So you all better be ready to strap it on and get it rolling!" Rivera told his players.
After the 22-19 defeat, Rivera's postgame speech expressed disappointment in some of the young players vying for a spot.
"It's about this team. It ain't about you. It's about this team. And if you're having trouble learning, you better put some extra work in because I'm not going to keep you around and let you disappoint this team."
Closer look at the RBs:Running backs coach Jim Skipper doesn't raise his voice often during practice, but he was mic'd up in this episode, which gave viewers a chance to appreciate his coaching style.
A man with decades of coaching experience, Skipper is calm and steady. He's also been known to deliver some humorous one-liners.
"Each day we get something new from Skip," running back Fozzy Whittaker said with a smile.
Pro Bowl running back Jonathan Stewart and Skipper have worked together for seven years, and Stewart credited his longtime coach for his success in the NFL.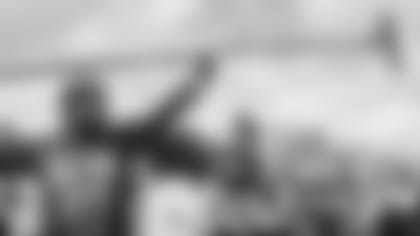 Players help the TV crew:One of the lighter moments of the episode featured some of Carolina's star players helping out the "Camp Confidential" production crew.
Linebacker Thomas Davis grabbed a camera and shot some video of fellow linebacker Luke Kuechly. Quarterback Cam Newton and wide receiver Ted Ginn, Jr. tried their hands at gathering sound.
As you'd expect, there were some comical rookie mistakes made.
Final practice of training camp:The final segment of the episode focused on the conclusion of camp, offering a recap of the physical, competitive weeks at Wofford College.
After the final practice, Rivera was pleased with the effort and attention to detail.
"Nice job," he told the players in the final breakdown. "That's the way to finish camp."
View photos of players having fun and enjoying time with their families at training camp.