SPARTANBURG, S.C. – Ryan Kalil knew he was about to create quite a stir when he completed his newspaper ad predicting the Panthers would win Super Bowl XLVII.
"Rightfully so," Kalil said. "It's a bold thing to say."
By crafting that bold statement, the center explained that he wanted to send a direct message to the Panther fan base.
"Really, I did it for the fans." Kalil said. "We haven't given them a whole lot in recent years. They deserve a better team, and I'm very confident in what this team can do.
"We have the talent and the commitment and the drive to make it happen."
A primary reason for Kalil's confidence?
An injection of healthy contributors – such as linebacker Jon Beason – heading into the new campaign.
"We won six games last year, but I don't think it's real telling of the kind of team we were," Kalil said. "We were in all the games but two. A big part of not being able to get over the hump and finish out some of those close games against some really good opponents was the missing pieces we had, especially defensively.
"That's going to be the difference maker this season."
---
MURPHY ARRIVES: Kalil and his teammates have made their intentions for the 2012 season clear as training camp gets underway.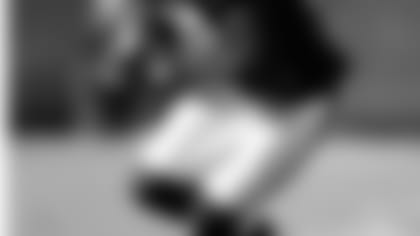 And newly-acquired wide receiver Louis Murphy is thrilled to be a part of it.
Murphy, who spent his first three years with the Oakland Raiders and came to Carolina via a trade earlier this week, is looking forward to a fresh start with a team, and particularly an offense, that suits him well.
"I'm excited right now," Murphy said. "I like this offense. They sling it around and like to go deep, and that's what I like to do."
The 6-2, 213-pound wideout said he is completely healthy after groin problems last season, and feels comfortable playing in the slot or on the outside.
Murhpy also expressed excitement about joining a huddle featuring five-time Pro Bowler Steve Smith.
"It's like meeting an idol, "Murphy said. "Being able to finally meet him and learn from him is a blessing. It's a real blessing.
"I've always been a fan of Steve Smith as a young receiver growing up, watching the intensity that he plays with. He's a great receiver and he loves the game. He plays hard and physical."
Head coach Ron Rivera is excited about the new addition to the offense.
"I got an opportunity to coach against (Louis) for a couple of seasons when I was in San Diego," Rivera said. "We like him. He's a very capable football player, and he'll add competition to that position."
The new wideout, who led Oakland's receivers with 75 catches for 1,130 yards over his first two NFL seasons, is eager to produce in any way the Carolina coaching staff sees fit.
"I've always kind of had a chip on my shoulder and that's just my mentality. I kind of got away from that and doubted myself last year," Murphy said. "This year I know what I have to do."
---
GAMBLE BACK FOR MORE:After a disappointing 2010 season, cornerback Chris Gamble looked more like himself in 2011.
Gamble became the franchise's all-time leader in interceptions after recording three last year to go along with 12 passes defensed, but he enters training camp far from satisfied.
"I feel I could have been better, could have more picks," said Gamble. "I'm my biggest critic. I'm hard on myself.
"I want to do my part, but I want to win at the same time. If you win everything is fine."