SPARTANBURG, S.C. - Despite being a top-10 pick in the most recent NFL draft, Panthers linebacker Luke Kuechly continually talks about being a rookie and needing to earn the respect of his fellow linebackers.
He already has it, according to linebacker and team leader Jon Beason.
"He kind of stays in his lane because he's a rookie, but we've opened the door and said, 'Hey, you're one of us,'" Beason said. "We don't treat him like a rookie, and we don't expect him to play like a rookie, either."
The relationship between Beason and Kuechly could have gone the other way. Beason has been the Panthers' starting middle linebacker for all but the first four games of his rookie season in 2007, while Kuechly played in the middle throughout his record-setting college career.
How they'll line up still is to be determined – Beason was in the middle for the first practice of training camp Saturday – but they're already on the same page.
"Jon Beason has been as professional about this as you can be," Panthers head coach Ron Rivera said. "With people being like, 'Oh, Luke's here to take your place,' Jon has embraced Luke.
"Jon understands that if Luke plays well, he plays well. If James Anderson plays well, he plays well. If Thomas Davis plays well, he plays well. It's a huge plus when you have guys who feel like that about their teammates."
Rivera praised Kuechly's attitude, his aptitude and his athleticism.
Beason took his admiration a step further.
"Right out of the gate, he's adjusted great. I've never seen a rookie linebacker come in and pick it up as fast as he has," Beason said. "He's a pro. He stays late, studies, asks a lot of questions. He's very athletic and has great ball skills.
"He's prototype – fits the bill. He's going to help our defense tremendously, and I like him, too. He's a good kid."
---
DOUBLING THE TROUBLE?: Beason joked (we think he was joking) that he could help on the offensive side of the ball if called upon.
Davis took it a step further.
"I was an offensive player in high school, so if Beas thinks he'd be a good offensive player, then I know I'm going to be a great one," Davis said. "Any position, really, but I think my best one might be quarterback. Check out my arm one day."
If the Panthers offense is to achieve a goal that wide receiver Steve Smith jokingly threw out Friday (we think he was joking), they could use all hands and arms on decks.
"I think it would be great to double the numbers," Smith said. "Why not?"
The Panthers did double their scoring totals last season, putting up 406 points after scoring a league-low 196 points in 2010.
Doubling that again would mean scoring 812 points, or 50.8 points per game. The 2007 New England Patriots set the NFL single-season mark with 589 points.
If the Panthers were to double their yardage output, from 6,237 yards to 12,474, they'd eclipse the record established by the New Orleans Saints last season by a mere 5,000 yards.
"I could see us doubling those numbers," wide receiver Brandon LaFell said, not having the benefit on what doubling the numbers would actually require. "It's our second year in the offense, and we've got a lot of explosive guys who know what they're doing."
---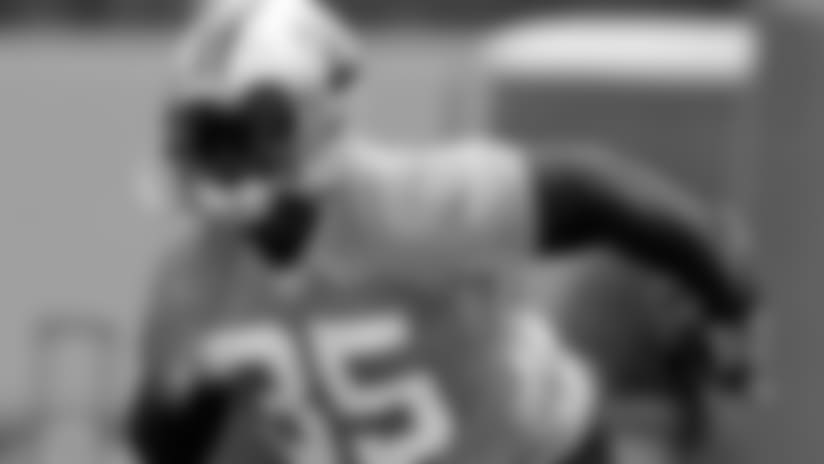 TRIPLING THE TROUBLE?: Fullback Mike Tolbert made no specific predictions about the numbers the running game could put up with a backfield that already features DeAngelo Williams and Jonathan Stewart, but Tolbert and his running mates are fired up about the possibilities.
"We tell each other all the time that we're going to have the best running game in the league this year," Tolbert said. "I didn't know how I would be received in the running back room, but they've welcomed me with open arms. Both of them gave me a phone call the day I signed here and wished me the best of luck, told me they were ready to go."
Tolbert scored more rushing touchdowns over the past two seasons (19) with the San Diego Chargers than Williams and Stewart combined (14), but he hasn't broached the idea of renaming the "Double Trouble" duo that became the first teammates in NFL history to rush for more than 1,100 yards three years ago to include himself.
 "Not yet," Tolbert said. "I've got to prove myself to those guys and the community around here before somebody comes up with a name for all three of us."
---
HEAD IN THE GAME:** Defensive end Greg Hardy didn't like the look he sported involuntarily at the beginning of training camp in 2011, the side of his body still scoffed up by a motorcycle accident.
This year's new look, however, is of his own choosing. A month ago, Hardy had his dreadlocks cut off. He proudly displayed his high-and-tight look Sunday.
"I want to be noted for being a good football player and being an educated man and a good guy instead of just a guy with dreads who does dumb stuff," Hardy said. "It's a business move, just trying to be more professional, trying to show everybody that I'm serious about coming with my work hat on.
"I don't think people really took me serious at all, even though I'm very serious. I'm getting a little bit more respect."