SPARTANBURG, S.C. - The Panthers terminated the contract of right tackle Jeff Otah on Thursday after he failed his physical.
In an unrelated move, the team signed cornerback Nate Ness. The roster stands the maximum of 90 players.
Carolina traded Otah to the New York Jets on July 23 for a late-round conditional draft pick, but Otah reverted back to the Panthers on July 31 when he didn't pass a physical in the seven-day window spelled out in the agreement.
Otah's health was at the heart of Thursday's move, Panthers general manager Marty Hurney said.
Otah missed 31 of the Panthers' last 35 games.
"Anytime you let go of a player as talented as Jeff is, it's a hard decision," Hurney said. "But I think after he came back, talking to him and going through the last couple of days, he just doesn't feel like he's gotten over the injuries of the past two seasons and really doesn't know when he'll be ready.
"You don't part with talented players very easily because they're extremely hard to find. Jeff is a very talented player, but to help us, he has to feel like he can be on the field. He's just not at the point where that's the case right now."
Otah, selected by the Panthers in the first round of the 2008 draft, spent the final three games of the 2009 season on injured reserve with a left knee injury. The injury sidelined him for all of 2010, and he played in four of the first six games in 2011 before returning to injured reserve to further rehab the knee.
Byron Bell started 12 games in Otah's spot last season. Garry Williams is back from a broken ankle, and the team traded for Bruce Campbell in the offseason.
"We feel like we've got some good young players there," Hurney said. "Our depth is pretty good there, and obviously that plays into the decision."
Ness was added to provide depth at cornerback. Rookie Josh Norman has missed the last two practices with a hamstring injury, and Brandon Hogan missed the last practice with a sore knee.
"We're getting some nicks at corner, so we'll see what he can do," Hurney said. "When they've been on the field, we've felt very good about them, so you want them back on the field to get them as many reps as possible, because they have a lot of learning to do."
Ness has played in eight games with one start over three seasons with the Miami Dolphins, Seattle Seahawks and the St. Louis Rams, where he saw action in four games last year. The Cleveland Browns originally signed him as an undrafted rookie free agent from the University of Arizona.
---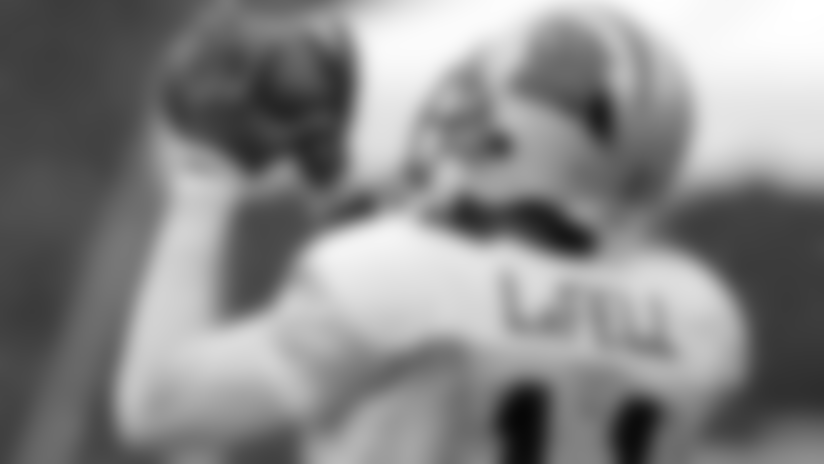 LAFELL LEAPS FORWARD: The camp competition at wide receiver behind Steve Smith is no less heated than it was on Day One, but now the competitors appear to be behind Brandon LaFell as well.
"The battle is probably going to be for the third spot as we look at it," Panthers head coach Ron Rivera said. "Brandon LaFell seems to be taking the bull by the horns. He had a couple of really good practices and has made some really nice plays."
The Panthers, who have 15 receivers in camp, typically keep five or six on the 53-man roster.
Rivera praised the early work done by Louis Murphy - acquired in a trade with the Oakland Raiders last week – as well as returning veterans Armanti Edwards and Seyi Ajirotutu and rookies Joe Adams and Jared Green.
David Gettis, expected to challenge LaFell, is on the Physically Unable to Perform list recovering from a hamstring injury.
LaFell, who had 36 catches for 613 yards, appreciates the vote of confidence but doesn't plan to change his approach.
"It doesn't change anything at all, but every day I've got to compete for my job – that's the way I look at it," LaFell said. "That's what training camp is about."
---
HERE'S THE KICKER: The battles for the punter job between Nick Harris and Brad Nortman and the kicker job between Olindo Mare and Justin Medlock are too close to call, with all competitors performing well to this point.
"Right now it's a heck of a competition for kicker and punter," Rivera said. "We've got one punter averaging about 44 yards a kick, and the other guy is averaging almost 46. We've got one guy averaging a little bit over a 4.5-second hang time and the other one is around 4.65.
"Our kickers are both very consistent. We've got one at 90 percent and the other one at 89 percent as far as field goal efficiency."
Rivera wouldn't say which numbers belonged to which kickers.
"We're going to keep that to ourselves," Rivera said.
Rivera said preseason games would go a long way toward determining the battles. The Panthers open Aug. 11 at home against the Houston Texans.
Mare, the one player among the four candidates on the team last season, said he's focusing on himself rather than making comparisons.
"Justin is a good kicker, but if I take care of my business and what I do, that's what I'm concerned with," Mare said. "Overall, I feel good. I've hit it pretty well, but it's only been a couple of days."
---
KEEPING SCORE: Competition comes naturally for pro athletes, but it's only natural for a little extra incentive to help the cause.
"We're doing a point system right now, and whoever gets the most points gets to sleep in before one of the practices," left guard Amini Silatolu said. "I think the offense has (the most points) for sure."
Rivera confirmed Thursday that the offense has "a little bit of a lead" but that it's close.
"It's just a little game we've got going between offense, defense and special teams," he said. "This is something that keeps pushing the guys.
"It's kind of funny. We've had a couple of instances where guys were on the ground, potentially hurt, but everybody was concerned with who got the points on that play. It's kind of a double-edged sword, but it's nice to see the guys competing."
The date for the sleep-in hasn't been determined. Rivera said position coaches are a part of it as well but added that it won't matter for anything other than pride.
"The truth of the matter is the coaches will get up early no matter what."