SPARTANBURG, S.C. – Defenses want to be associated with turnovers. It's a winning combination.
The takeaway mentality is one all coaches try to engrain in the minds of their defensive players, and for the Panthers, that process is underway.
"(Creating turnovers) is a big part of what we've got to do," head coach Ron Rivera said. "We'll continue to work on that, improve on that. We'll do that every opportunity we get."
Through four practices, the Panthers takeaway-hungry defense has been on display. There have been several interceptions in each session, with a couple returned for touchdowns.
Last season, the Panthers finished tied for 17th in the NFL with 24 takeaways and Rivera wants that number to improve.
At the start of every practice, each defensive position group works through a "takeaway circuit" to emphasize its importance.
"Every time we have an opportunity to get close to the ball carrier, we're going for that takeaway. That's been a big focus for us," linebacker James Anderson said. "Causing fumbles, interceptions, anything you can do to create a turnover – we're making that a focus this camp."
It's not only the defense that's emphasizing turnovers.
The offense is receiving reminders throughout practice.
"The positive that comes in working on takeaways is obviously getting the ball back," Rivera said. "But it also forces your offensive guys to keep in mind that they've got to protect the ball."
That applies to the defense as well.
After defensive end Charles Johnson intercepted a screen pass during team drills, wide receiver Steve Smith chased him down and punched the ball free.
"Without a doubt, that's exactly what we want," Rivera said. "Even though I may have blown the whistle, I've told the offensive guys and defensive guys that they're allowed to come over and try to punch it out at any time. It's the mentality that (defensive coordinator) Sean (McDermott) and I had when we were in Philadelphia, and it was the mentality that (secondary coach) Steve Wilks and I had in Chicago and San Diego."
---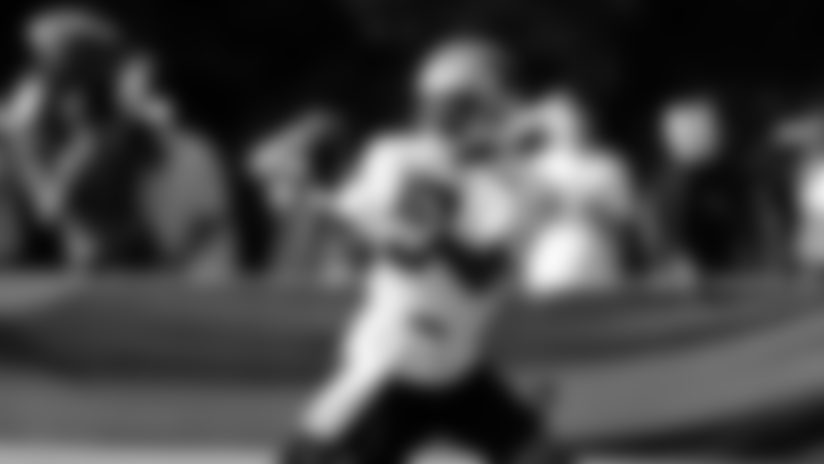 YOUNG STANDOUTS: Wideout Jared Green has hauled in several deep throws since the start of camp and his downfield work has caught the eye of the coaching staff.
"We've seen the vertical speed, and we've seen improvement from when he first got here – from the first day of rookie camp – all the way through to now," Rivera said. "That's what we're looking for from our young players, that they show they can grow and become effective players for us.
"We've seen the improvement from Jared. He's gotten better and better. He's making the effort, making the commitment to try to be a part of this team as we go forward."
Rivera also mentioned defensive lineman Nate Chandler as a young player who has gotten off to a strong start in his first NFL training camp.
Overall, Rivera has been pleased with the performance of the rookie class.
"We've got a number of guys that show potential and the ability that you're looking for out of young players," he said.
---
OTAH TRADE RESCINDED: The trade that sent offensive tackle Jeff Otah to the New York Jets for a conditional draft pick has been voided, Panthers general manager Marty Hunrey said today, because Otah did not pass his physical with the Jets.
"The Jets called and told us today that he was going to revert back to us," Hurney said. "Tomorrow we'll meet with Jeff. We'll determine if he stays on PUP for a while or if he's active."