INDIANAPOLIS – Two of the three fastest 40 times among running backs at the NFL Scouting Combine came from guys who grew up and played college football in North Carolina.
But that's far from the end of the line when it comes to local connections preparing to vie for roster spots in the NFL.
T.J. Logan, who played at the University of North Carolina, paced a deep and talented group of running backs with a 4.37-second 40 time. Tarik Cohen of North Carolina A&T was third among the position group with a 4.42.
Several others with local ties among the 300-plus prospects gathered at the Combine made their mark as well. Here's a sampling.
RB Matt Dayes, N.C. State
The fact that Logan and Cohen may or may not even be drafted speaks to the depth of the running back class. Same goes for Dayes, though the back that topped 100 yards eight times last season for the Wolfpack has a better shot than some because of his well-rounded game.
"One thing that sets me apart from other running backs is my ability to catch the ball, run routes and play receiver," Dayes said. "I can play kick returner as well. I feel like my versatility is a big thing for me."
WR Ryan Switzer, North Carolina
Switzer headed three Tar Heel receivers invited to the combine after piling up 96 catches for 1,112 yards last season. He's primarily viewed as a slot receiver and kick returner, but he doesn't think that limits his appeal.
"I think I fit a lot of teams' mold," Switzer said. "Teams want playmakers, guys that do their job well and can get open. That's me. I'm just looking forward to seeing where I go and seeing what I can do at the next level."
TE Jordan Leggett, Clemson
One of the heroes of the national championship game, Leggett found out quickly that the Combine isn't just about what you do on the field. He shared a moment – sort of – that he experienced during the team interview process.
"The most interesting question was my most embarrassing moment," said Leggett, who was then asked by the reporter to elaborate. "I can't. I can't bring it back up. I told the team, but I can't share it with everybody. It's a secret."
A two-time finalist for the Mackey Award, Leggett like Dayes and Switzer is widely viewed as a Day 3 target (rounds 4-7).
"You have no idea exactly where you're going to end up, but it's fun," he said. "I'm making the most of it."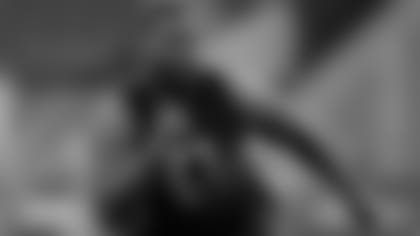 LT Javarius Leamon, S.C. State
Another likely late-round target, Leamon's squad suffered a 59-0 loss to Clemson early last season, but he said the game was valuable for him individually and should resonate with scouts.
"They can see how I can make things happen, how athletic I am," Leamon said. "I just wanted to show I belonged out there.
"I just need my foot in the door. I just need a chance."
DT Larry Ogunjobi, Charlotte
The fast riser – now projected by many to be a Day 2 target (rounds 2-3) – has a similarly positive feeling about his tape in a blowout loss to Louisville. Ogunjobi didn't start playing football until he was a 350-pound high school sophomore cajoled into getting off the couch and putting down the video game controller. Now he's set to be the first 49er ever drafted.
"I wouldn't be a person to kind of shy away from a challenge, because you want to play the best competition, especially if you have that kind of self-belief," Ogunjobi said. "I feel like a lot of people, they get caught up in trying to prove everybody wrong instead of proving themselves right. That's my biggest thing - believing in myself. If you say you're the best, prove it."
CB Jack Tocho, N.C. State
There's no guarantee that the Charlotte Independence High School product will be drafted, but wouldn't it be something if he ended up with the Panthers?
"It would be cool to grow up in Charlotte and then play in Charlotte – two hours away from where I played in college," Tocho said. "That would be full circle for me. That would be pretty cool."