CHARLOTTE – Talk of quarterback Aaron Rodgers' return dominated the conversation leading up to the matchup between Carolina and Green Bay.
The Panthers defense was intent on making sure he didn't dominate on Sunday.
As safety Kurt Coleman said earlier in the week, they were "excited" about the fact that Rodgers was eligible to come off injured reserve just in time to face them.
"The story of the game," tight end Greg Olsen said, "was that the defense forced three picks and the fumble there at the end."
Green Bay's superstar quarterback played well and nearly engineered a dramatic comeback in his first game since a collarbone injury in Week 6. He completed 26-of-45 passes for 290 yards and three touchdowns in addition to running for 43 yards.
"They showed you what kind of life they have with Aaron Rogers as their quarterback," head coach Ron Rivera said.
But the Panthers intercepted three of Rodgers' passes -- the first time that's happened to Rodgers since 2009 -- increasing their season total to 10. They also sacked him three times, with two of those coming on consecutive plays in the fourth quarter to force a turnover on downs in Carolina territory.
Safety Colin Jones, who played a big role with nickel Captain Munnerlyn inactive, recorded his first interception of the season, and cornerbacks James Bradberry and Daryl Worley each recorded their second interceptions in as many weeks.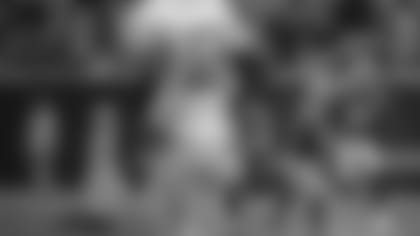 Those interceptions against a quarterback of Rodgers' caliber won't soon be forgotten.
"I want to make sure I get my football labeled and have his name on there," Bradberry said of picking off Rodgers, a two-time MVP. "Put that in the trophy case."
Bradberry later sealed the 31-24 victory by punching the ball out of wide receiver Geronimo Allison's grasp, allowing safety Mike Adams to recover the fumble with 1:50 left.
"Well, it's not the fairy tale that we were hoping," Rodgers said after Green Bay's postseason hopes were dashed in Charlotte. "As I lay in that surgery bed eight weeks ago thinking about this moment, I was hoping it would go a little differently."
The Panthers clearly had other ideas.
"That's the thing – everybody made it about Aaron Rodgers, but it's about us," Adams said. "We've been here, and he just got back. We wanted to play our game and do what we had to do and just focus on us. That's what we did."
"We all were excited to go against a great player like Aaron," Coleman added. "I can't say enough about what Bradberry and Worley did on the outside. We played cohesive defense and we played off each other. There were times where guys just made plays, and that's the step we've been looking for and the step we've needed to take."
View the top photos from Panthers vs. Packers by team photographer Melissa Melvin-Rodriguez