CHARLOTTE – The Panthers' starting defensive line has remained intact through three games, but there have been several changes made to the second unit.
First-round draft pick Vernon Butler's ankle injury necessitated the signing of defensive tackle Kyle Love, and Lavar Edwards has essentially replaced defensive end Ryan Delaire, who was put on injured reserve.
Carolina is very comfortable with Love, who played 15 games for the Panthers and recorded three sacks last year.
"He's a solid football player," head coach Ron Rivera said. "We're very fortunate to have a guy like him available to us and be able to bring him back in."
Love was released in the final roster cutdown, but here he is preparing to suit up against the Falcons in Week 4.
"I'm happy to be back," Love said with a smile. "They said it was one of the hardest cuts they had to make, and I understood it. You can't keep everybody. It hurt, but at the same time, it's a business.
"I'm just happy to be where I am right now."
Love will be playing alongside veteran Paul Soliai, who spent the previous two seasons with the Falcons.
But it's business as usual for the soft-spoken defensive tackle who is now on the other side of the rivalry.
"I'm a Panther, and I'm proud to be a Panther," Soliai said. "I know some players over there, but it's a business and we're coming to play and win the game."
Edwards knows the business side of the game all too well. The Titans, who drafted him in the fifth round of the 2013 draft, traded him to the Cowboys prior to the start of his second year, then Dallas signed and waived him four times over the next two seasons. He had a four-day stint with the Raiders and a nine-day stint with the Bears.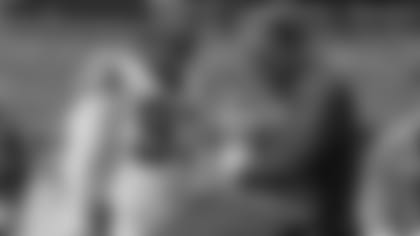 "I've grown a lot through the process of being on so many teams," Edwards said. "I understand that nothing is certain in this league and it's a production-based business."
Edwards, who Carolina claimed off waivers just before the start of the season, appears to have found a home. He recorded his first career sack last Sunday against the Minnesota Vikings and has impressed the coaching staff with his work ethic.
"He's shown some position flexibility. He can play defensive end and some three-technique for us, which is really kind of exciting," Rivera said. "He's a sharp young man – picking things up very quickly. He's got a good motor and can run all day. He's fit in very nicely."
View photos from the Panthers' week of practice leading up to their game against Atlanta.