CHARLOTTE – Generally, NFL teams that win the opening coin toss defer to the second half. Sunday, Arizona decided to receive against the Panthers to try to take an early lead.
"Who can blame them with the film we've been putting out lately?" defensive tackle Star Lotulelei said after the game. "But we're coming out with a different mentality, and I think that showed today."
Led by Lotulelei's three sacks, the Panthers' pass rush came alive Sunday to register eight sacks of quarterback Carson Palmer.
Of Lotulelei's three sacks, his brightest moment was his first of the game: a strip sack that linebacker Thomas Davis turn into a 46-yard touchdown - the first score of his NFL career.
"It's a really good front," Palmer said. "Kawann Short's a great pass rusher, Charles (Johnson) has been a great pass rusher for a long time, Star Lotulelei is a great pass rusher. It's just a really good group."
Head coach Ron Rivera credited defensive coordinator Sean McDermott for dialing up blitzes at the right time to fluster Palmer (three sacks came from the back seven), but Charles Johnson, the veteran leader of the defensive line, may be more responsible for the pass rush's resurgence than any.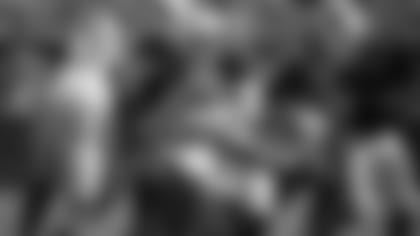 "Charles Johnson set the tone earlier this week," Lotulelei said. "We had a little meeting and he talked to us (defensive linemen). He set the tone. He said it's on us, and we're going to put it on us."
Said Johnson: "I wanted my guys to get that mentality where we don't worry about what goes on behind us or what goes on with our offense. No, the only thing we can control is what we do. We had to just go out with that mentality of going after the quarterback and not worrying about anything else."
But it wasn't just hits and sacks that the defensive line registered. Defensive end Kony Ealy recorded his first career regular season interception after tipping the ball to himself on a play where he was intent on reaching the passer, not stealing his throw out of the air.
"Yeah, I was rushing," Ealy said. "(I) just wrapped around the whole defense. Everybody was going and getting in their gaps. I saw Palmer at the line, watched his eyes and just played the ball."
It was that interception that sealed the game for the Panthers. Paired with Lotulelei's forced fumble that Davis returned for a touchdown, Carolina's defense resembled the dominant 2015 unit. Coming into Sunday's game, the Panthers had only taken the ball away eight times. With the two added against Arizona, they improved from tied for 16th-most in the league into a tie for 11th, an important improvement for the team that led the league with 39 a season ago.
"Put them on the board," Ealy said. "We've got to go get some more. We'll enjoy this victory, then go get ready for next week."
View game action photos from Carolina's 22-19 win over Arizona.