CHARLOTTE – Offensive tackle Nate Chandler watched Carolina's preseason loss to the Patriots from afar, but he took it to heart – especially the sight of quarterback Cam Newton getting sacked three times.
"Definitely. We've got to fix our mistakes," said Chandler, who missed the game with a knee injury. "I feel like we've been doing a good job this week."
Chandler has returned to practice this week, and he's on course to play Thursday against the Pittsburgh Steelers.
"I feel good. I got my conditioning back," Chandler said. "Being out for a few days you kind of lose your endurance, but I felt a lot better today.
"I just have to stay on top of it with treatment and do everything I can to prevent my knee from swelling up or bothering me. I just have to spend that extra time in the training room."
The Panthers hope the extra time in the training room will allow Chandler to thrive in his new role for the 2014 season – the team's starting right tackle.
"I feel like I've adapted quickly and I've progressed over time," Chandler said. "I feel like this is my position right now, until I hear otherwise."
A converted defensive lineman, Chandler started eight games in 2013 – six at right guard and two at right tackle. His athleticism made him a prime candidate to play tackle, and it's helped him transition to the full-time demands of the position.
"You have a lot more space at tackle," Chandler said. "You're dealing with faster guys who are big and strong. Your athletic ability definitely has a factor in your play. It's just different technique. At guard, you are in an enclosed area and you're dealing with the big loads. At tackle, the rushers are faster, and you have to go to the next level and chase down safeties and outside linebackers."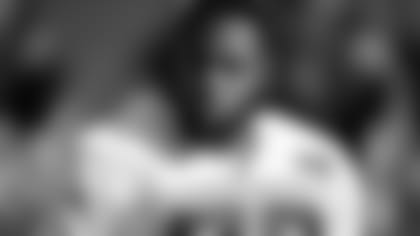 TURNER ITCHING TO RETURN: Rookie right guard Trai Turner suffered a groin injury in Week 2 of the preseason against the Kanas City Chiefs and has not practiced since.
"It's just a little pull in my groin. It's not as serious as I thought it was," Turner said "I should be back out in practice pretty soon. I'm just rehabbing and making sure I get back out there healthy."
Turner may not be ready in time to face the Steelers, but with the regular season opener drawing near, he's determined to return to action as soon as possible.
"It's extremely tough," Turner said. "It's hard being in meetings and watching film and not being one of the guys that's on film looking good like the rest of the team. But it's a growing point for me, to be able to sit back and take everything in mentally."