CHARLOTTE – When Ron Rivera decided to make a switch at offensive coordinator earlier this month, a section of the fan base had a fleeting hope for a major change. That's not how the NFL works.
Rivera wasn't going to bring in a guy who'd blow things up. Like it or not, NFL head coaches almost always opt for familiarity.
"To be successful in this league, I think it's proven that you have to be able to run the ball," Turner said Monday. "Whether it's a power run or a finesse run, you need to be able to run the football. If you can do that, it makes life a lot easier on the quarterback; it helps your defense, it helps your team."
You don't need to take a deep dive into Turner's past to know his units have traditionally used a power run game to set up play-action passes and deep shots. That'll continue in Carolina, as will Rivera's goal to control the clock.
Another thing that will stay the same for both Turner and the Panthers – a reliance on an ultra-productive tight end.
"He's important to Cam," Turner said of Greg Olsen. "I think every quarterback has a security guy that they trust and they know where they're going to be when they get in trouble, that's the guy they go to. I had a chance to say hello to Greg, and I'm sure that he's politicked for the ball a few times in his stay here, but he's really important, and he's a talented player."
So what could look different?
While there's not much change needed with a Pro Bowler like Olsen, there's still wrinkles to iron out with a guy like Christian McCaffrey.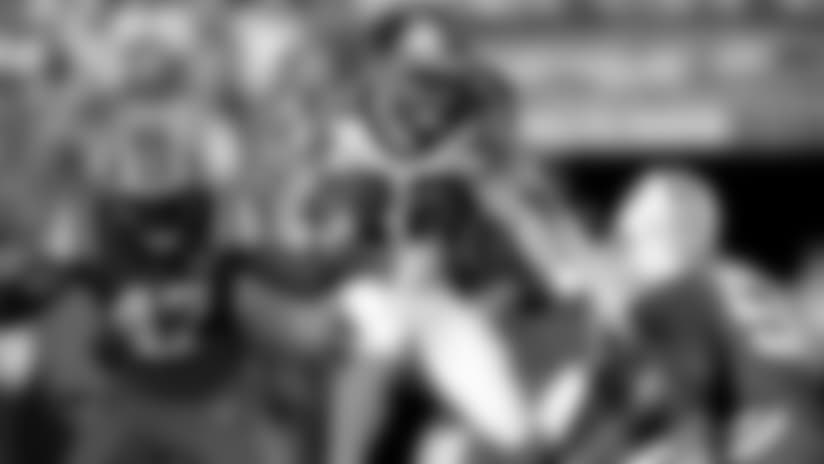 "He had an unbelievable rookie year and did a lot more than a lot of people would be asked to do and handled them all," Turner said. "He lined up everywhere you could line up, which is hard for a rookie.
"He's got such talent, you're just going to keep finding ways to get him the ball and try to create more space for him. That hard-nosed running between the tackles he can certainly do, but I don't know that's what you want to lead with him."
Because McCaffrey was a top-10 pick, many were expecting an average higher than 3.7 yards per carry. As a receiver, though, he set a franchise rookie record with 80 catches while averaging a healthy 8.1 yards per reception. He also showed a nose for the end zone with eight total scores.
After McCaffrey was drafted last spring, some folks compared him to Darren Sproles, Turner's multi-dimensional spark plug in San Diego. From 2008-12, Sproles averaged 127 touches under Turner. But in 2007, their first year together, Sproles had just 47 chances.
"Christian is ahead of (where Sproles was), and there are some things we can do that he did, but Christian can run wide receiver routes," Turner said. "So yeah, there's a lot of things we did with Darren that apply, and there are some things that I think we can do differently with Christian."
Turner is also inheriting last year's second-round pick, a player we still don't know much about. After injuries put a dent in wide receiver Curtis Samuel's spring and summer, he began flashing his potential midway through the year - right before suffering a season-ending ankle injury in Week 10. But even those brief flashes showed that Samuel could provide the offense something it desperately needs.
"When you put the tape on him you can see he has the speed," Turner said. "Our job is to get him to use it better, to play faster.
"All these receivers can play faster and come off the ball quicker. Make their speed more of a threat to the defense. All of these guys can run. When you're (Devin) Funchess and you're a big man, the speed of your routes is different than the little guys, but when you're that big, you cover a lot of ground."
So, yes, in many ways the offense under Turner won't look much different. The past seven years were basically built on his philosophies, anyway. But even minor changes could help jumpstart a unit that needed some tinkering.
"I think there are things that will look different and I think there are things that will look very similar," Turner said.
"One thing that hasn't changed is the teams with the best players and those that play the best are going to win."