SPARTANBURG, S.C. – When Julius Peppers left the Panthers following the 2009 season, a fledgling defensive end named Charles Johnson had to carry virtually the entire weight of the Panthers' pass rush.
In the two seasons following Peppers' departure, Johnson stepped into a starting role and a starring role, amassing 20.5 sacks. Each of those seasons, no teammate managed more than four sacks.
Peppers is back in the fold, and even before that electrifying offseason addition, a good amount of Johnson's burden already had been lifted. But is Johnson expected to again be a pivotal piece in the defensive end rotation – now with a weight lifted from his back in more ways than one.
"It feels good to be here and be healthy right now," said Johnson, who underwent back surgery in March. "My main thing is trying to stay healthy. Just trying to stay positive about everything and hoping I can help my team out the best I can."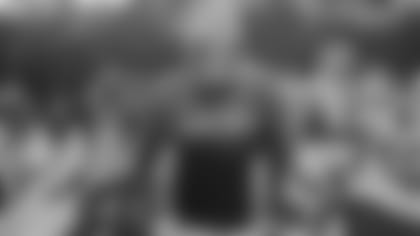 Johnson is still rehabbing from the surgery every day, but it's hard to tell the way the 31-year-old entering his 11th NFL season moves around the practice field at training camp. He said that his back along with his hamstring – possibly connected as it turns out – have bothered him each of the past two seasons. But the back part of the injury concern came off the backburner and became front and center this past offseason.
"I didn't really feel it until February, when I just got out of bed, literally, and I could not walk for two weeks," Johnson said. "The first thing I did was call RV (head athletic trainer Ryan Vermillion). I went in, and I couldn't feel anything in my leg. It kept getting worse and worse, so I got a shot and after that shot it was getting worse. I was laying on my floor for two weeks and could not walk or anything.
"It was devastating, but at the same time, I was like, 'Man, I got to do something.'"
The course of action was surgery. The prospect of back surgery can be a scary thing for anybody but particularly for an elite athlete late in his career, and Johnson admitted being concerned about what the future might hold. Those fears were eased, however, in part by talking to people he had passed in the Bank of America Stadium corridors for the last decade.
"The crazy thing is, there were so many people that came up to me and said they had the same thing done, especially in the building. People of older age would come down and said they had the same thing done," Johnson said. "They gave me a lot of hope with how they did it because they had good recoveries from their surgeries. It felt good when I heard other people had the same thing done and how they handled it and how they are looking at it now. It was good."
Johnson's recovery has gone well, and his focus has turned to helping the defensive end unit be all it can be. The group was quiet in the sack department relative to the team's numbers last season, when the Panthers ranked second in the NFL with 47 sacks but just 23 of those came from defensive ends.
Everyone is buzzing about the return of Peppers, Johnson included, who joined the chorus of teammates calling the 37-year old a "freak of nature." But Johnson's focus lies on fitting Peppers into the group so the franchise's top two sack artists of all-time can both produce like starters together for the first time in their long careers.
"Potential is good, but we've got to work at it and gel. He's got to gel with us, so we are still working," Johnson said. "We just got to put it all together. We don't want to waste this year with all the talent on the D-line."
View photos from Carolina's eighth practice at training camp.