On other offers and what led to his decision to remain with the Panthers: "There were a couple teams – I'm not going to mention any names – but my decision was always to stick with my team. I love the place that I'm in. I love what I do and where I'm at. The coaches have always shown me love and loyalty. I just love playing for this team. The decision was kind of easy."
On if this will be his last contract: "If I ball out for two more years, I'm coming back to the team (laughs)."
On loyalty in Carolina: "You see the support over the years and it's just amazing. It just makes me so grateful to be in this organization. People show so much appreciation to me, and I show that respect back. I just love this organization."
On not testing the waters in free agency: "Me and (general manager Dave) Gettleman already had an agreement, kind of, if I was consistent and did what I had to do (last season). It was kind of guaranteed that I would stay home. I just like proving myself to this organization. I couldn't see myself trying to do that anywhere else. My passion is here."
On defensive line remaining intact: "I'm super pumped. Those are all my guys. I tell Gettleman and I tell Beaner (assistant general manager Brandon Beane), 'Just keep stacking the D-line, keep bringing in good people for the D-line.' I'll even root for them to bring Pep (Julius Peppers) back. If they can bring Julius back I'm all aboard."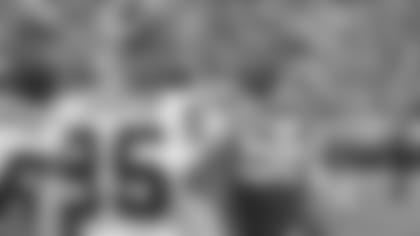 On talking to Peppers: "I haven't (talked to him) yet, but I'm going to start recruiting him. … From a personal opinion and as a friend of his, I just want to see him retire as a Panther. I just think him coming back for a year and retiring as a Panther, I mean what better career for him to have and retire at his home."
On individual goals: "I'm going to give it my all and just max out my opportunity. I'm doing what I love doing with the team I love. My day-to-day to process is kind of easy."
On his offseason regiment: "I kind of stick to the same thing. But one thing different for me now being older, you have to rehab your body more and make sure you take care of your body."
On staying where he put down roots: "It's a blessing to be in one place your whole career and see not only myself grow but see the city grow, see the organization grow and see the culture change. It's just all a blessing."
View photos of defensive end Charles Johnson during his ten seasons with the Panthers.