CHARLOTTE - Before he ever stepped onto an NFL field, Chase Blackburn dreamed of being a football coach one day.
He could have never dreamed exactly how his vision would turn to reality.
"I went to school and was a secondary math education major so I could teach and coach," Blackburn said. "It just turned out that I was able to play football for 10 years before."
As a student-athlete at the University of Akron, Blackburn worked on and off the field to learn how to coach aspiring athletes hoping to play in college and beyond. His determination landed him above and beyond, first as an NFL player and now as a pro coach.
Blackburn is the Panthers' new special teams coordinator.
"I learned from so many coaches along the way," Blackburn said. "All of that over the years is invaluable. I can't thank all the people that had an impact on what I'm trying to do as a coach."
Blackburn's unexpected but impressive playing career in the NFL – from undrafted rookie to special teams standout for a decade - has helped him in multiple ways as a fledgling coach. It helped prepare him to coach. It helps him as a coach trying to relate to his players. And it certainly didn't hurt his efforts to get his foot in the door.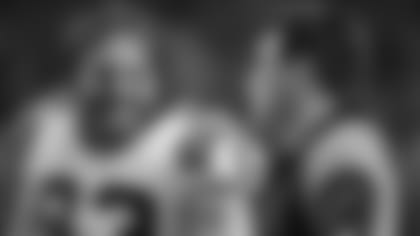 After eight years as a Giants linebacker, Blackburn played his final two seasons with the Panthers. Then, after one year away from the game, Blackburn got his first shot with the Panthers as a coaching intern. He assisted special teams coordinator Bruce DeHaven and assistant Thomas McGaughey in the offseason leading up to the 2016 season, then he suddenly found himself in a full-fledged role after training camp when worsening health for the late DeHaven moved McGaughey and Blackburn up.
During Blackburn's year away from football – the year the Panthers went to the Super Bowl – Carolina actually ranked third-to-last in sportswriter Rick Gosselin's long-referenced special teams rankings. In Blackburn's first year on staff they were 21st, and this past season they cracked the top 10.
"We've come a long way," Blackburn said. "Two years ago we jumped up a decent amount, and this year we jumped up to No. 10.
"That speaks to the approach I'm going to take: It's not broke. There will be some tweaking and tightening going on, but overall we're not trying to reinvent the wheel. What we have in place works, and now it's just about executing and continuing to have the right guys in the right places on the field."
Blackburn thanked McGaughey, reportedly set to become the Giants' special teams coordinator, for helping him get up to speed for the challenge ahead. But even though Blackburn's debut as a coach came on the big stage of the NFL, it was never too big for him.
"Honestly, it kind of came natural," Blackburn said. "I'd like to say there was some big eye-opening moment, but I feel like I was preparing for this my entire playing career.
"I feel confident in what I can do."
That confidence came in part from a playing career in which Blackburn often acted as a coach on the field. He was a meticulous note taker throughout, and he wasn't one to discard them at the end of a given season.
Just the opposite, in fact.
"It drives my wife a little crazy with an office full of books and notebooks and game plans. But I knew what I wanted to do, so I kept them," Blackburn said. "All of them. Everything I've ever done.
"When we'd move, she would be like, 'Are you really going to keep 37 notebooks?' I told, 'Yeah, I'll use them.' Obviously the game keeps evolving and changing, and some of that stuff is irrelevant, but a lot of it still has great value."
Also of great value? The fact that not long ago – and for a long time – Blackburn was in meeting rooms taking notes as a player. The 34-year-old isn't far removed from his playing days, having played alongside special teams staples like Colin Jones and Ben Jacobs, and that too should help him navigate the biggest assignment of his coaching career to date.
"Guys in the room know that I've done it, know that I've been a part of it and that I know what it takes to accomplish it. That gives me a little bit of credibility as soon as I enter the room," Blackburn said. "That's valuable, but so is knowing angles, knowing some tricks of the trade that I can teach guys beyond Football 101, 201 – little intricacies that guys can utilize once they have the big picture down."