When the Kansas City Chiefs visit Bank of America Stadium on Sunday, the Panthers will face a team that can serve as a model for what Carolina is aiming to do.
Last season, the Chiefs became just the second team in the Super Bowl era to recover from a 1-5 start to make the playoffs, winning their last 10 games along the way. The Panthers started 1-5 this season and have won their last two games.
"We've always been aware of what our capabilities are. We just haven't lived up to that potential," Panthers fullback Mike Tolbert said. "It definitely feels good to get a couple of wins back-to-back, but at the same time we know that we've got a tough task ahead of us Sunday."
The Panthers have a recent history of overcoming slow starts, but their quest to do it again continues against a team that is still on a roll after its rally, bringing a 6-2 record to the table.
Here are five keys to the Chiefs' turnaround last season and how they align with the Panthers' pursuit the same this season.
1. Cranking up the pass rush: The Chiefs have an abundance of capable pass rushers but they started slow last season, posting just eight sacks during Kansas City's five-game slide (1.6 per game). In their 11 victories, how the Chiefs collected 39 sacks (3.5 per game) to finish the year with 47, the fourth-best total in the league.
Those numbers should sound familiar to Panthers fans, as Carolina now ranks fourth in the league in sacks. They came up with just 12 sacks over the 1-5 start but have recorded 12 in their last two games, both victories. They're now on pace for 48 sacks.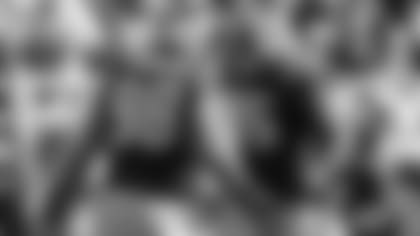 2. Tightening up ball security: The Chiefs' five-game slide started in shocking fashion, with a fumble in the final seconds of a tie game that was returned for a touchdown. Fumbles, however, were few and far between once the Chiefs started winning.
Kansas City turned the ball over just seven times during its 10-game winning streak, second-fewest in the league during that stretch. It's a tried-and-true formula for success in the league that Carolina already has experience with this season: In their victories, the Panthers have a 3-to-1 takeaway-to-turnover ratio; in their five losses, they have a 1-to-3 takeaway-to-turnover ratio.
3. Getting contributions from developing players: The Chiefs ended up second in the NFL in interceptions behind the Panthers last season largely on the strength of rookie Marcus Peters, who tied for the league lead with eight and is tied for the league lead this year with five. The running game lost a perennial Pro Bowler in Jamaal Charles five games into last season, but Spencer Ware and Charcandrick West – who had combined to appear in eight NFL games entering 2015 – helped the Chiefs tie for the NFL lead with 14 rushing touchdowns over their 10-game winning streak.
The Panthers are relying on rookies in the secondary as well, having just started James Bradberry and Daryl Worley together for the first time in their last game – with success. They hope that first-round draft pick Vernon Butler will soon return from a high ankle sprain and begin to bolster the middle of their defensive line.
Rookies can arguably make the biggest leaps forward during the course a season, as the Panthers found out in 2014 when rookie offensive linemen Trai Turner and Andrew Norwell and rookie defensive backs Tre Boston and Bene Benwikere helped engineer the type of turnaround this team is trying to make.
4. Solidifying the offensive line: The Chiefs struggled to protect quarterback Alex Smith early last season, allowing four sacks a game over the course of their 1-5 start. During the 10-game winning streak that followed, though, they allowed two per game.
In their case, the insertion of left guard Jeff Allen -- a starter coming off injury -- after six games appeared to provide stability. The Panthers' path has been different, left to slowly gain their footing with left tackle Michael Oher out for the last five games. Right tackle Mike Remmers has held up in Oher's spot, and Daryl Williams has thrived at times in Remmers' spot. If Oher does return, the line will be that much stronger for it and perhaps ready to finish with a flourish.
5. Staying the course: Chiefs coach Andy Reid was inundated with questions as the hole got deeper during his team's early-season skid, but those calling for wholesale changes were disappointed. Reid made some adjustments, sure, but in the big picture he believed in his team and stuck to his guns, a patience in the face of peril that eventually paid off.
That's been Panthers head coach Ron Rivera's approach as well, and things are beginning to turn around. And from November on, his teams since coming to Carolina in 2011 are 32-12.
"We knew we were doing the proper things, the winning ingredients, so we just had to keep a strong mentality, practice extremely well and meet with purpose," quarterback Cam Newton said. "If you do that, you put yourself in the best position to win football games."
View photos of Carolina's week of practice leading up to their game against Kansas City.