CHARLOTTE - Last week, Chris Manhertz was a Saint. A year before that, he was a Buffalo Bill. A year before that, he had never played a game of football and was coming off a successful basketball career at Canisius College. 
He's hardly the first college basketball standout to transition from the hardwood to the gridiron.
He's also not the first to do it wearing a Panthers uniform.
Joining the ranks of former Panthers tight ends Brandon Williams and Eric Wallace, the 6-6, 255-pound Manhertz was recently claimed off waivers from the Saints. Manhertz caught the eye of the coaching staff as they reviewed game film prior to the Panthers' Week 6 game against New Orleans.
"We got a chance to watch him on tape and really liked what we saw," head coach Ron Rivera said. "He's done some good things, and we think he has a chance to help us. That's why we brought him in, we want to see what kind of football player he is."
While Manhertz was primarily used as a run-blocking tight end with the Saints, Rivera thinks he can assist in the passing game as well.
"The tape I watched there were six balls thrown to him – he caught five of them. He's an intriguing guy."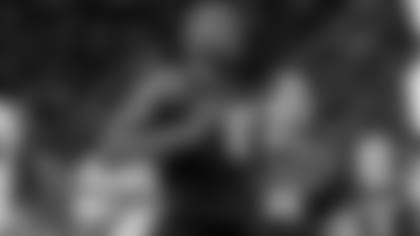 "It's see ball, get ball," Manhertz said. "It's a different shaped ball, but it's pretty much the same concept."
Manhertz racked up 789 rebounds in 116 games at Canisius, ranking him fourth in school history. The Bronx, N.Y., native is hoping his efficiency in the paint will provide an advantage as he continues developing as a football player.
"There are a lot of things you can take from the basketball court," he said. "Little things like body positioning, footwork and working in space. I think a lot of those components can translate into you being more effective on the football field."
Manhertz draws inspriation from other tight ends, like Jimmy Graham and Antonio Gates, who parlayed their basketball skills into a successful NFL career.
"(They show) it is possible. It's challenging of course, but it's definitely possible if you dedicate yourself to your craft."
Manhertz will use the bye week -- now his second during the 2016 season -- to study the Panthers playbook and prepare himself for Carolina's Week 8 game against Arizona.
"I'm just trying to get as acclimated as possible in this system and do what's asked of me," Manhertz said.
"I've got to buckle down and learn the system to be prepared for next week."
View photos of the Panthers' practice heading into the Bye Week.