NASHVILLE – Each practice, each preseason game, we see more of what rookie running back Christian McCaffrey is poised to bring to the Panthers.
"With that guy you just have to get the ball in his hands and we know he is going to make plays for us," quarterback Derek Anderson said. "The kid is special."
During Saturday's preseason game against the Titans, McCaffrey made some special plays. His 17-yard touchdown run – his first career trip to the end zone – highlighted his initial burst through the line and speed to beat safety Brice McCain to the pylon.
"Just a counter," McCaffrey said when asked to describe the scoring play. "(Tight end) Ed (Dickson) did a great job of kicking out the 'backer. I just split both of them and tried to use my speed.
"The hole was there and it was my job to make it happen."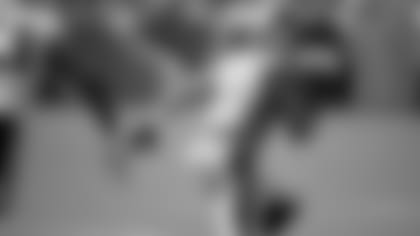 His 38-yard catch and run off a simple screen pass highlighted his sheer explosiveness in space. McCaffrey's "next gear" simply looks faster than everyone else's.
As Anderson said, get him the ball and let his athletic ability take over.
"You hold your breath when he's got the football, especially when he's got space," head coach Ron Rivera said.
Added tight end Greg Olsen: "He really had some spark plays. Obviously he's dynamic – we've seen it. He's not an easy guy to tackle. It's going to be nice to see how that continues to develop in our offense."
No one is more excited to see that development take shape than the first-round pick himself.
Because the preseason is just that – a preview of what's to come before it's time for the Panthers are ready to unleash the weapon wearing No. 22.
"It was good getting out there and getting loose a little bit, but it's also kind of a tease, because as soon as you feel like you're in a rhythm and you're ready to go, you get pulled," said McCaffrey, who totaled 72 yards on five touches. "But that's what the preseason is for."
As for the ball from his first NFL touchdown, McCaffrey said he wasn't sure who took it or where it was.
But he didn't seem all that concerned about the keepsake. That touchdown will no doubt be the first of many.
"Hopefully we get a lot more," he said.