CHARLOTTE – Everyone wanted to catch a glimpse of the Panthers' first-round draft pick when rookie minicamp opened Friday morning.
Those on the lookout for Christian McCaffrey in Carolina blue better not blink.
McCaffrey looked fleet of foot throughout the session, flashing the quick and efficient movements that prompted the Panthers to invest the eighth overall pick in the 2017 NFL Draft on the former Stanford standout.
"It was awesome, just putting the jersey on and being out there with your teammates. It was a blast," said McCaffrey, a running back by title who showcased his versatility by lining up at receiver for a few snaps. "This was a big learn day, and once you learn it, earn it. That's the biggest thing right now – getting the plays down and making sure that when you come out here there are no questions. All the questions were in the meeting room so that when you come out here, you can play fast."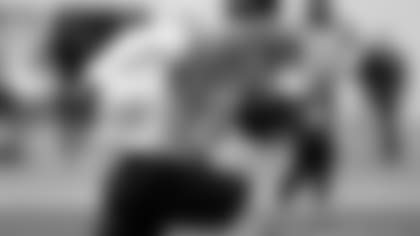 In more ways than one, McCaffrey will be gone in a flash. Because of an NFL rule regarding rookies and the offseason workout program, McCaffrey won't be seen again around Bank of America Stadium for about a month once minicamp concludes Saturday. Stanford is still in session until early June, and even though McCaffrey isn't enrolled this quarter, he can't return to Panthers activities until class is dismissed.
Still, he'll spend time in a virtual classroom via Skype and carve out some time on an actual football field as well, even if it happens to be back in his native Colorado.
"I'll have the playbook, and I'll be able to train, too. I'll just find out what they're doing and can rep it," McCaffrey said. "It's still football. You can come out on the field wherever you are – whether it's with the team or without the team – and you can have the same mentality."
McCaffrey was able to lean on running back Jalen Simmons – one of nine returning Panthers players allowed to take part in the camp – and he's talked to veteran backs Jonathan Stewart and Fozzy Whittaker.
"I'll go back to Colorado to train for a little bit, and then I'll see if I can move out here just to get settled in and maybe meet with some of the veterans," McCaffrey said. "I know I can't meet with the coaches or be in the building, but I'll do whatever I can to stay on top of everything."
Coaches and media weren't the only ones with their eyes on McCaffrey at minicamp. Fellow rookies like wide receiver Austin Duke, an undrafted free agent who is Charlotte 49ers' all-time leading receiver, took note of him as well.
"I looked at him in the huddle and I said, 'It feels so good to be here in the huddle with you, man,'" Duke said.
View photos of the Carolina Panthers during the first day of Rookie Minicamp.