CHARLOTTE – The red in Lance Taylor's eyes said it all.
After watching the Panthers select running back Christian McCaffrey with the eighth overall pick, the former Stanford running backs coach – now Panthers wide receivers coach – heard tears of joy on the other end of the phone.
He had to fight back tears himself.
"I tell you, it's an emotional moment," Taylor said moments after speaking with McCaffrey on draft night. "There is so much hard work that goes into this. To hear that a guy you've coached and have a relationship with is going to be that eighth overall pick is pretty special.
"It was special talking to him on the phone and hearing how emotional he was."
Shortly after Taylor was hired to coach the Carolina wide receivers in February, Taylor talked about the idea of McCaffrey becoming a Panther.
"I think he'd look great in Panther blue and black," Taylor said. "I know he's going to have a ton of success at the next level. I would love for it to be with us."
At that point, there was hardly any buzz linking McCaffrey to Carolina. As the pre-draft process wore on, the likelihood steadily increased. But Taylor was reluctant to imagine his dream scenario unfolding.
"Every time I started to think about it, I would kind of draw myself back a little bit," Taylor said. "I didn't want to get my hopes up or get excited about something that may not happen."
Still, Taylor understood he was a valuable resource. When general manager Dave Gettleman and head coach Ron Rivera asked about McCaffrey, Taylor shared the wealth of information at his disposal.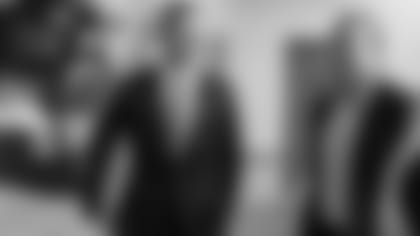 "Lance gave us tremendous insight into his skillset, what he's capable of doing," Rivera said. "One of the benefits of having a guy that coached the guy is he had some pretty good tape that probably nobody else in the league saw that we got to see. We were very fortunate like I said that Lance was there and had that stuff."
And Lance was in a uniquely qualified position to vouch for McCaffrey's work habits behind-the-scenes. That's when the Luke Kuechly comparison came about.
"He said he's got Luke's kind of DNA," Rivera recalled. "That, I thought, was a real interesting comment. One of those kinds of guys that's just all about football, and you guys are going to see that very quickly."
When Taylor was the assistant wide receivers coach for the Panthers in 2013, he got a firsthand look at Kuechly's approach to the game. He quickly saw the similarities in McCaffrey.
"For the last three years, I've spent more time with Christian than I have my own son," Taylor said. "When I left Carolina, Luke was a guy that I held at the highest esteem. I watched how he prepared, I watched his work habits and I saw how it translated to the field. I went to Stanford and I was blessed to have a player like that in Christian."
Now that he's a Panther, McCaffrey will spend the majority of his time with longtime running backs coach Jim Skipper. But he'll have a seat in Taylor's wide receiver room from time to time.
"He is a Swiss army knife. He can do everything," Taylor said. "He's a running back and he's going to be in Skip's room. But we also see him catching some balls from the slot and working with (assistant wide receivers coach) Jerricho (Cotchery) and me running routes. He can absolutely step in and do that for us.
"It'll be good to keep coaching him a little bit," Taylor added with a smile. "I knew he could help my room as well."