A perfect day to enjoy the outdoors and spend time with family. A perfect day for a hike.
"We were going to go to lunch," McCaffrey recalled Tuesday in a phone interview, "and then just randomly we were like, 'Let's go hike the rock.'"
So McCaffrey – along with his brothers Dylan and Max and friends Michael Mann and Brooke Pettet – went to Castle Rock. They were making their way to the top when they turned a corner and saw something that will stay with them forever.
Eli Smoker was hiking with his grandfather, Dan Smoker, Sr.
Then the 72-year-old fell – about 20 feet onto a rock.
"It felt like he was in the air for 10 seconds," Christian McCaffrey said. "I had never seen anything quite like that in my life as far as the trauma and the sound. We were in shock."
McCaffrey called 9-1-1. Mann and a fellow onlooker named Chris tended to Smoker, who was suffering greatly from the devastating fall. Chris kept his head still and Mann performed chest compressions when Smoker's breathing stopped.
"Everybody stepped up," McCaffrey said. "I called 9-1-1, and it felt like an eternity. It felt like we were up there waiting for four hours. But I looked back at my call log and it took 11 minutes before the paramedics came. Amazing what those guys did."
Eli, 13, frantically called his dad, who was in San Diego celebrating his 15th wedding anniversary.
The group at Castle Rock prayed as Smoker Sr. fought for his life.
"My dad is laying there and there is nothing I can do for him. And my son is there freaking out, and there's nothing I can do for him," Dan Smoker recalled. "It was the worst experience, both as a father and as a son."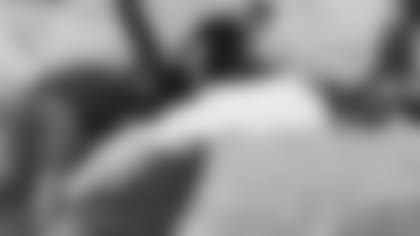 Photo courtesy of Tifany Borgelt
After Smoker Sr. was rushed to the hospital, doctors found a litany of injuries: a broken femur, a broken pelvis, internal bleeding, bleeding on the brain, nine fractured ribs and a broken neck.
But he was alive. Somehow.
"I credit them with saving my dad's life," Smoker said of the group on Castle Rock.
As of late Tuesday afternoon, Smoker Sr. was in critical but stable condition.
His grandson is still processing the harrowing experience.
"Eli was such a trooper, man," McCaffrey said. "I was traumatized, and I had no relation."
A day after the accident, McCaffrey – along with his mom and brothers – went to the hospital to check on the family. Smoker had no idea an NFL star was part of the rescue team for his father.
"They introduced themselves and I still hadn't pieced it together," Smoker said. "I can't say I'd recognize Christian without his football gear on. Around here, Valor Christian is a popular high school, and I knew that Ed McCaffrey had just taken over as head coach there. We were talking and they had mentioned that they went to Valor, and we were looking there because our son loves football as well.
"At that point, Lisa (McCaffrey) chimed in and said, 'Well, we may have a contact.'"
That's when Smoker started to put it all together.
"One of the things that amazed me the most was just the humility," Smoker said. "It was not about, 'Look at who I am.' They just wanted to make sure we were OK. That was it. They wanted to see how my son was doing."
McCaffrey continues to text back-and-forth with Smoker's son following an incident that all involved will never forget.
"We all took it upon ourselves to check up on that kid," McCaffrey explained. "It could be a lifelong bond between us. He experienced a lot in those five minutes."
It's a story as heartwarming as it is heartbreaking.
"It shows the really good side of humanity," Smoker said. "Pretty amazing."
Said McCaffrey: "It's such a … I don't know what you'd call it. Truly a blessing that we turned the corner at that exact moment and we could be there for him.
"I don't know what would have happened… We were lucky to be at the right place at the right time."