CHARLOTTE – As far as spring practices go, Thursday's minicamp session was about as highly anticipated as it gets, especially if you're running back Christian McCaffrey.
The eighth overall pick in the 2017 NFL Draft, a weapon who possesses a versatile skillset capable of electrifying the Carolina offense, wasn't able to join his new team until Stanford's final exams concluded.
That meant the final day of the Panthers' three-day minicamp served as his one and only opportunity to take the field with the veterans before training camp. All eyes, including those of team Owner/Founder Jerry Richardson and franchise quarterback Cam Newton, were on No. 22.
"It sucks whenever your team is competing and you're not," McCaffrey said. "But you've got to follow the system, and I'm glad to be here now.
"Just get some jitters out and come out here and play football."
After a series of hugs and handshakes, McCaffrey strapped on his helmet and got to work. He got started with some reps in a kick coverage drill, then joined the running backs for individuals, where he was fifth in line.
Running backs coach Jim Skipper worked with him on wildcat snaps before team drills began. He had his fair share of carries, was a decoy on end-arounds, lined up in several places and even threw a pass.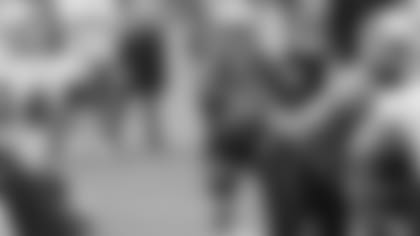 "The more ways you can be dynamic the better – for the coaches, for me and for the team," McCaffrey said. "Whatever they ask me to do I'll do. I hope I'm used in a lot of ways, but that's not up to me."
Late in practice, McCaffrey took a handoff, bounced right and turned upfield, whizzing past his offensive teammates standing along the sideline.
"Fresh legs!" yelled someone standing in a blue jersey. As veteran safety Mike Adams said after practice, "he's got some juice."
It was the first of three consecutive carries, followed by a catch in the flat. For a guy desperate to practice, that action-packed sequence must have been particularly satisfying.
"It's been a while, so it was good to come out here and be with the guys," McCaffrey said. "I've been studying so hard, and today was just about playing fast."
The Stanford record-setter sure knows how to play fast. It appears he's a fast learner, too.
"He did awesome," said running back Fozzy Whittaker, who, among others, offered to help McCaffrey study during the summer break. "Not being able to be here for all of OTAs and then to be able to come in the last day and be able to pick things up like that and do it efficiently and make plays – that's what we brought him in to do."