CHARLOTTE – Three months ago, Christian McCaffrey witnessed what he feared was a tragic loss of life when he joined friends and family on a hike in his native Colorado.
Three months from now, when the regular season begins, McCaffrey could be shaking hands with the man who plummeted 20 feet onto a rock below on that fateful day.
"We didn't think he was going to make it, but he's living now. He's going to come out to a game this year, which will be a lot of fun," McCaffrey said. "He's walking; I don't know how he's not paralyzed. The guy is a fighter."
Dan Smoker Sr. was hiking with his grandson at Castle Rock when the 72-year-old, as McCaffrey put it, "basically fell off a cliff" as McCaffrey, two brothers and two friends happened by. They all sprang into action, and paramedics arrived quickly and were able to save Smoker's life.
"I definitely try to keep in touch with him. It's a heck of a family, a great family. It's truly a blessing and miracle," McCaffrey said. "When you see something like that, you definitely have a better appreciation for life and you take every moment in."
For McCaffrey, the football field is his happy place, and this offseason he's sharing it with his teammates. That wasn't the case last year, when McCaffrey spent OTAs at home because of a rule (since changed) restricting rookies from schools still in session.
As a result, this is McCaffrey's first full spring with the Panthers coming off a fulfilling first fall.
"I was back in Colorado last offseason training, but being here now is a big step," McCaffrey said. "Obviously last year I couldn't be here during this time, so it's been a lot of fun being able to be here, be with the guys.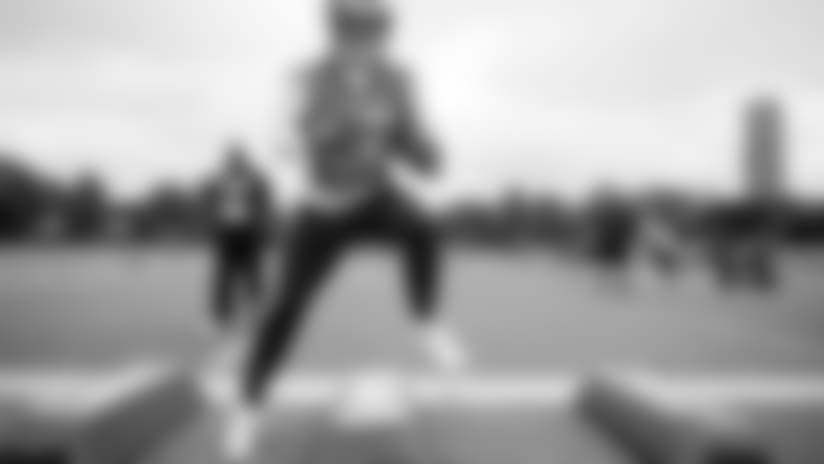 "It definitely feels different. I'm definitely a lot more comfortable with everybody and with our offense now."
McCaffrey needed to be around last spring to get up to speed on life in the NFL, though the son of longtime wide receiver Ed McCaffrey seemed to easily make up for lost time and finished the season with the fourth-most receptions (80) for a rookie running back in NFL history.
This spring, McCaffrey is around to get up to speed with first-year offensive coordinator Norv Turner's game plan.
"I'm real excited to learn from him," McCaffrey said. "He's obviously had a lot of success in the past. He's a great football mind, so every day we're just coming in and trying to get better one step at a time."
With a new running mate in the backfield in the form of veteran C.J. Anderson, McCaffrey was asked what he foresees as his role this fall. He referred those questions to the powers that be.
"We'll see," head coach Ron Rivera said. "It's a good group of guys, and we've got to find ways to get the ball into playmakers' hands.
"I really like the growth we saw from Christian (last year) in terms of learning how to do things and doing them the right way. Now with Norv and seeing some of the things he's done in the past with some of the guys he's had, I feel comfortable that we'll find ways to use him and get the ball to him."
View photos from the seventh day of practice of organized team activities.