COLUMBIA, S.C. – The countdown to the NFL seemingly began for Jadeveon Clowney when he came to South Carolina as the top overall high school recruit in the nation three years ago.
His size, speed and athleticism categorized him as a rare talent at an early age.
When pro day came to Williams-Brice Stadium after the past two seasons, Clowney would soak in the scene from the sidelines. He'd watch his teammates perform for NFL scouts and coaches. And those same scouts and coaches made sure to catch a glimpse of Clowney – even if he was just a spectator.
Clowney – who finished his college career with 130 tackles and 24 sacks – had been ready and waiting for his own pro day. Wednesday was his turn to show off, and perhaps go from No.1 high school prospect to No.1 pick in the 2014 draft.
"I was looking forward to it. I was talking about it all week," Clowney said. "I just couldn't wait for pro day to get here and get going. I've been watching other guys for the last few years at Carolina.
"I just wish we had pads on hitting somebody."
Spoken like a true defensive end.
But the NFL knows the 6-foot-5, 266-pounder can hit. Wednesday was about agility tests and endurance.
"I wanted to show them I can move well laterally," Clowney said. "They know I have speed. I wanted to show that I can turn my hips, drop in coverage and show them my cardio – show them I've been working out and staying in shape."
"I still have a lot of proving to do. But I took another step today."
Clowney has had to answer question after question about his work ethic since the draft process started. He's determined to prove the critics wrong.
"I've been tired of (that question). I've been tired of answering a lot of questions. But it's something you have to do," Clowney said. "I think I work just as hard as anybody. Put me in a group with guys, and I am going to try to outwork them. I just have to keep on pushing."
Clowney also wanted to display his versatility on Wednesday in front of scouts or coaches from 30 of the 32 NFL teams. He played defensive end throughout college, but if asked to play linebacker in a 3-4 scheme at the next level, Clowney believes he has the tools to excel.
"I haven't played (linebacker) a while, but I'm looking forward to it," Clowney said. "I really want to go back to that. I always told my teammates, 'If I could get a running head start off the edge, it would be easier to pass rush.'
"I can be good at it. I have no problems dropping and moving."
For many draft pundits, Clowney's performance on Wednesday helped solidify him as the No.1 pick. He doesn't plan on dropping or moving from that spot.
"Yes, what you think?" CIowney answered when asked if he should be drafted first overall. "I can pretty much do it all. I am a playmaker. I have what it takes."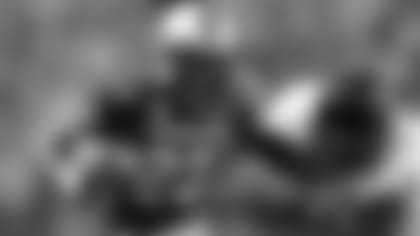 EXPLOSIVE ELLINGTON: He may not have been the main attraction, but wide receiver Bruce Ellington is an intriguing middle-round prospect for teams in need of a receiver.
The 5-foot-9, 197-pound wideout – who recorded 100 career receptions for 1,446 yards and 14 touchdowns – displayed his quickness and reliable hands during the pro day workout.
"All the training that I did, I just wanted to come out here and show everybody what I could do," Ellington said. "I'm a team guy. I can make big plays. I've got an all-around game. I can line up in the inside and outside."
Now, with all their workouts complete, Ellington, Clowney and the rest of the prospects will do their best to relax until draft day.
"It is (a sense of relief)," Ellington said. "Going through all the training, going to the combine, pro day – it's a long process. But it's worth it. I'm thankful and I'm just happy to be here."