In 15 seasons on the major college level, West Virginia defensive coordinator Tony Gibson's units have produced about one pro player per year on average, a list that includes Pro Bowl cornerback Adam "Pacman" Jones.
The first time Gibson laid eyes on Daryl Worley, Gibson thought he'd someday join the group.
"He stood out from Day One as far as his leadership and his abilities," Gibson said in a phone interview. "He wanted it. The way he worked, you could tell he was an extraordinary guy."
The hard work paid off last week, when the Panthers traded up in the third round of the NFL Draft to select Worley.
Gibson was there for every step of Worley's development over the last three years, helping him develop into the player he is today.
Worley didn't need help developing his impressive and impactful length. Only two of the 11 cornerbacks drafted ahead of him – top-five overall pick Jalen Ramsey and Panthers' second-round pick James Bradberry – can match the 33 3/8-inch arm length Worley recorded at the NFL Scouting Combine.
"He has something that you can't teach, and that's those long arms," Gibson said. "He's very good at press coverage, getting up on receivers and using his length to slow guys down off the ball. That's a great asset for him."
And Worley's game isn't all about physical traits.
"He can handle it all mentally. He can learn and implement the techniques the coaches will want," Gibson said. "And he's a great young man. He's so mature for his age, and that was always something that stood out when we had him here.
"He came in as a freshman and played, and just how he handled himself in different situations – a pleasure to coach."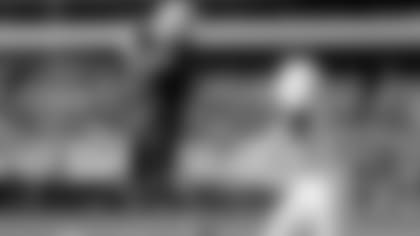 After contributing throughout his freshman campaign in 2013, Worley paced West Virginia with three interceptions in 2014, then he ranked seventh in the nation with six interceptions this past season.
In matchups with Texas each of his last two seasons, Worley revealed something else about his game to Gibson. In 2014, he recorded an interception against the Longhorns, and last season he had an interception and a fumble recovery.
"I remember him standing up in the locker room as a sophomore at Texas, just trying to get the guys to rally," Gibson said. "He was a young guy who would always take charge.
"Then last year, he shut those guys completely down. He made a big pick on fourth down. He was making plays all over the place."
That's what the Panthers hope Worley can deliver in NFL as well.
View photos of the Panthers' third-round draft pick, West Virginia cornerback Daryl Worley.