CHARLOTTE – A year ago, Travelle Wharton was debating whether to apply for a summer coaching internship with the Panthers.
"It was probably one of the best decisions that I've made," Wharton said Wednesday.
Wharton, who played 10 NFL seasons from 2004-13 (nine with the Panthers), made a strong impression as an intern, and now he's Carolina's new assistant offensive line coach. He replaces Ray Brown, who departed to become the offensive line coach for Steve Wilks' Cardinals.
"I always wanted to coach. I always wanted to teach the game," Wharton said. "But it's still hard to believe that I'm going to be a coach in the NFL.
"I'm a shy kid from Fountain Inn, S.C., man. And I was able to play college ball and NFL football. I love the game. This is me. I'm excited to be back in this building and be able to help these young guys get after it."
Wharton will be assisting John Matsko, who oversees the offensive line as run game coordinator. Wharton played for Matsko during his final two seasons with the Panthers in 2011 and 2013, and that experience should serve him well in his new role.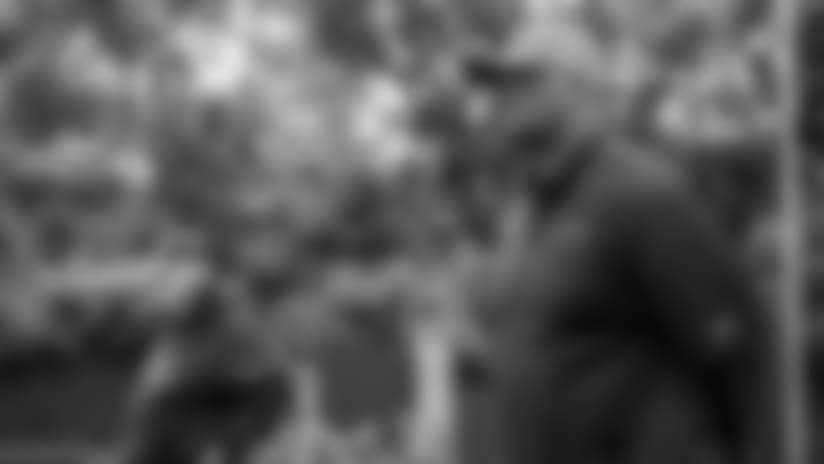 "I have the utmost respect for Coach Matsko because he is a great teacher. He won't leave a stone unturned. He's going to have you ready to play the game. As a player, he really taught me the details and the little things," Wharton said.
"The guys know that I played for him and now I'm on the other side. I think that's beneficial for everyone. They know I sat in that seat. Look, Coach Matsko is going to be tough and we are going to push you. That's what this O-line room is built on."
Wharton helped build the room and its principles as a player. He also helped create the full-fledged snack bar that sets the O-line meeting room apart from all the others.
"I remember when that was just a little stand," Wharton said with a laugh. "Then we decided to go bigger with the coffee maker and the fridge and all the rules about it. It evolved into a whole counter back there."
His buddies from his playing days are surely proud. Wharton was always a tough and dependable lineman. Now he'll demand the same from the men he's teaching.
And it'll all take place in Carolina with the Panthers – the franchise that picked the former South Carolina standout during the third round of the 2004 draft.
"This place holds a special place for me and my family," Wharton said. "I'm focused on being the best coach I can be."