CHARLOTTE – The day after Saints running backs Mark Ingram and Alvin Kamara slipped tackles seemingly every series, Panthers head coach Ron Rivera didn't mince words when describing his defense's effort when it came time to tackle.
In a word, that summed up what happened defensively in a 31-21 loss to the Saints that turned Carolina's attempt to recapture the NFC South into an uphill battle. Defensive coordinator Steve Wilks said his unit missed 12-plus tackles, a season high that he called "extremely too many."
The seeming tone-setter for the issues came on the game's opening drive, when Kamara fought his way through contact on multiple fronts to slip into the end zone on fourth-and-goal from the 1-yard line. Rivera and Wilks said linebacker Shaq Thompson should have wrapped up instead of slamming into Kamara like he did, but both termed the struggles as more mental than physical in nature.
Both also contended the concerns will be cleaned up – and that they must be cleaned up quickly.
"I think there's a misconception there because the tackling part to me isn't a physical thing," Wilks said. "Every guy in that room is physical and has those attributes or they wouldn't be in that room. Tackling to me is an emphasis on detailing your work. Going all the way back to when I first came into the league in Chicago, it's been about having to get in position to tackle each and every time."
That was an issue – and an uncharacteristic one – against the Saints, perhaps the team currently in the best position to punish an opponent for such missteps. Ingram and Kamara combined for 248 yards from scrimmage Sunday, their fifth consecutive 200-plus-yard effort. Over the stretch, they have accounted for 1,243 yards and 13 touchdowns.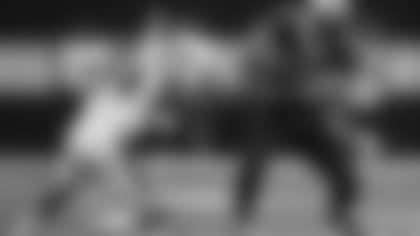 "They made some plays when we didn't," Wilks said. "So I don't want to sit here and say it was self-inflicted, but a lot of the things we did on defense yesterday can't happen. We lost the gaps a couple of times – particularly on the 72-yard run (by Ingram). We've got to be in much better position. Across the board, missed tackles is one of the things we've definitely got to make sure we correct, and we will this week.
"The biggest thing moving forward is emphasizing our run fits, our fundamentals and technique. This time of the year is when it really shows up."
Wilks broke down the concept "taking the grass," basically the goal of having defensive players keep their feet moving to limit a ball carrier's space to make a play.
Rivera, a linebacker back in the day and a longtime defensive coordinator, described it a different way.
"Part of tackling is a result of not being where you're supposed to," Rivera said. "Part of it can be a (defensive player) getting downhill into his crease and instead of keeping that gap constricted, he works sideways – which you don't want to do – and that makes that gap even bigger so that the (teammate) that is going to come in and try to fit that gap has a big area to try to tackle a guy. So instead of being able to get his body in a good position, he's now making more of an arm tackle instead of a good shoulder tackle."
Wilks said he personally takes "full responsibility" for the issues, reasoning that if the players involved have the talent and the determination to make the plays in question, then it must come down to the coaches having not adequately prepared them.
But players like defensive tackle Kyle Love don't agree with that assessment – and that's a good thing as this team tries to move forward this week against a Vikings team that has won eight consecutive games.
"It's definitely not on the coaches," Love said. "They coach and call plays, and then we have to go out there and execute at the end of the day. We just didn't play well as a unit, as a team, as players. We didn't get the job done. The New Orleans Saints played harder than we did, so we've got to take it upon ourselves as players to go out the next game and the rest of the season and play our best, execute, and do everything we're coached to do.
"We were not ourselves. We've got to get out of that, find ourselves and play Panther football."
View the top photos from Panthers vs. Saints by team photographer Melissa Melvin-Rodriguez.