How does he divvy up the workload?
He entrusts running backs coach Jim Skipper.
"I rely on him a lot in that regard," Shula said.
Skipper returned to Carolina in 2013 after two seasons coaching the running backs for the Tennessee Titans.
Skipper served as the Panthers' running backs coach from 2002-10, and Williams and Stewart recorded their most productive seasons under his direction.
In 2009, Stewart and Williams became the first set of teammates in NFL history to each rush for more than 1,100 yards in the same season as the Panthers set a franchise record and finished third in the NFL with 2,498 yards.
"He's got a really good feel and obviously he's had the experience being here with (Williams and Stewart)," Shula said. "The best thing about it is the relationship he has with those guys. They know going into a game how it could unfold, and they have a really good relationship amongst themselves."
Stewart led the team in rushing in his 2013 debut, totaling 43 yards on nine carries. Williams had 13 carries for 42 yards, while Tolbert added six rushes for 24 yards – including a 4-yard touchdown.
"That's a hard to thing to do," Shula said of keeping all the running backs involved, "and (Skipper) did a good job."
Shula also praised the work of several other assistant coaches.
He credited tight ends coach Pete Hoener for the fourth-and-1 call that resulted in a wide open 14-yard touchdown pass to tight end Greg Olsen and he credited offensive line coaches John Matsko and Ray Brown for preparing Nate Chandler to perform unexpectedly at right guard.
"John has got a real good feel, and that feel that he gets is from Ray, who works with all these young guys and spends extra time doing it just for that reason," Shula said. "I'm sure when you are meeting extra as a young player with Ray you kind of wonder why, but (Sunday) was a perfect example."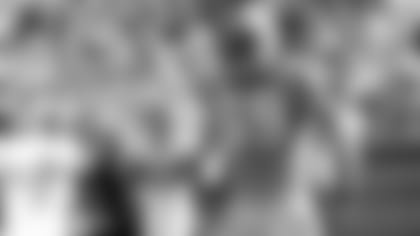 DEFENSE DICTATES: Defensively, it wasn't a poor first half performance against the Falcons, but defensive coordinator Sean McDermott knew it could have been better.
Tight end Tony Gonzalez became the first opponent to score a touchdown against Carolina in the first half all season. And at halftime, with the Panthers leading 14-10, the star tight end had five catches for 77 yards.
"We knew how we wanted to play him and we just weren't executing at that point in time," McDermott said. "That's a credit to Tony. He's going to make his catches."
But in the second half, the Panthers simply executed a lot better.
"We all just stepped our game up by six inches," McDermott said. "In the second half our players picked up the intensity."
The Falcons were shut out after halftime and gained just 109 yards of offense as the Panthers limited Gonzalez to only one catch for four yards in the final two quarters.
Carolina also recorded two interceptions in the second half – one that was returned for a touchdown.
"The adjustments that were made by the coaches and players at halftime obviously served us well in the second half," McDermott said.