CHARLOTTE – Some numbers related to Corn Elder suggest that the Panthers got him right around where they should have, using their fifth-round pick in the 2017 NFL Draft to select the University of Miami cornerback.
But Mike Rumph, Elder's position coach at Miami, has some dissenting thoughts on Elder's modest size and interception totals, not to mention his rightful pecking order in the draft class.
"I was surprised because I know his talent. To me, he probably could have been a late first-round or early second-round pick," Rumph said. "You're getting a true football player."
Rumph, a first-round draft choice at cornerback in the 2002 draft, admitted Elder appeared undersized at first glance when Rumph joined the Hurricanes staff prior to Elder's senior season. But the 5-10, 183-pounder played big from Day One even as he worked to add weight, and Rumph said that Elder's one interception last season had as much to do with him being a team player as anything. Elder did lead the Atlantic Coast Conference with 12 passes defensed.
"When I came in, he was about 5-10, 175. He looked very frail. I didn't know what to expect, but my gut told me he was a player," Rumph said. "He only had one interception his senior year, but for a lot of that I'll take the blame because he should have been playing nickel back, but because of our lack of maturity on the outside, we needed a lockdown dominant corner on the outside.
"Then one of the first series where he was in at nickel back, he intercepted the ball. He probably would have had three or four more of those in that position, but he had to play the best receiver on the outside because we needed him there."
Regardless of Elder's size or stats, it seems fitting that his first head coach at Miami called him a "super-athlete." The Tennessee native was considered one of the nation's top running backs after rushing for 2,618 yards and 39 touchdowns as a high school senior, and he was an accomplished point guard as well. Between football and basketball, he won five state championships.
Rumph said Elder's running back background makes him dangerous when he does get his hands on the ball via an interception or a kick return opportunity, and his basketball skills help him get around blockers trying to stymie him on run plays. And when it's time to tackle, Elder may be on the small side, but it's an area where he usually comes up big.
"He's a great athlete who loves the game and is a tremendous tackler," Rumph said. "He was already a pretty good tackler, but last year he learned how to get big backs to the ground, to come up and hit and be physical
"He just plays. He's never even talked as if he's a smaller guy; he talks as if he's a big player. He's a tough, tough kid. He's as tough as nails."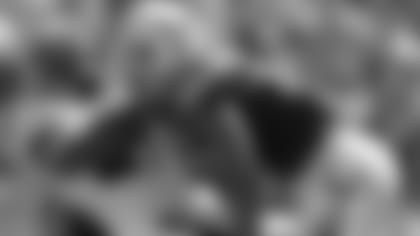 As for what Elder is capable of in the NFL, Rumph says he could see him impacting things early at nickel (the Panthers have said he'll compete at nickel with Captain Munnerlyn) but sees him having a role on the outside in time.
"I think he's going to shock a lot of people and be one of the top outside corners in the long run," Rumph said. "I think he's going to be a steady, big-time corner on the outside."
And, Rumph added, Elder is as steady as they come on special teams – always a key for rookies trying to earn time on the field.
"He's a special teams warrior," Rumph said. "We pride ourselves at Miami that no matter what string you are, you play special teams. Running down on punts, being on kickoff, making big-time plays as a kick returner – he can do it all.
"I think he's going to be impressive on special teams and then early on be a guy who can rotate in at nickel."
Rumph said Elder is the kind of player who just goes about his business, raving about him as a listener and learner. He can be on the quiet side, but he's loud and proud about his new home.
"He couldn't be prouder to be a Carolina Panther," Rumph said. "That's one of the teams he really talked about."
View photos of the players in action during the second day of rookie minicamp.