The Panthers' second-round draft choice graduated from Western Michigan with a business degree last year and spent his final season in the school's MBA program.
But brain power is just one attribute Moton is bringing to the table as Carolina's newest offensive lineman. His position coach at Western Michigan said Moton is a power-packed prospect who is further empowered by a work ethic that helped earn him good grades in his field of study and on the field of play.
"Watching his development over the years is really one of the reasons I got into coaching," Western Michigan offensive line coach Bill Kenney said. "He's just an outstanding young man who comes to work with his lunch pail every day and gives you maximum effort.
"Taylor is blessed with really unusual size – broad shouldered, tremendous lower-body strength. Those are physical gifts he has, but you realized he had a chance to be an NFL player when you saw his work ethic in action. He's blessed with a lot of physical attributes, but he brought a level of commitment, a level of passion to the weight room, to the offseason program, to the classroom."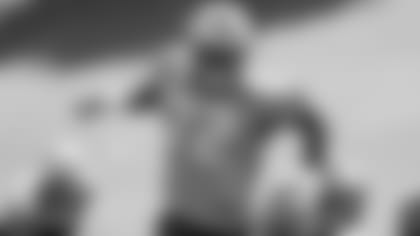 Kenney wasn't at Western Michigan for Moton's redshirt freshman season in 2012, having just completed a run of 24 seasons on Penn State's coaching staff. But Kenney made up for lost time upon his arrival in 2013 – or more specifically Moton made sure he and his new position coach crossed paths often.
"He spent a lot of time in our facility," Kenney said. "We would be in breaking down film and doing our part to put together a game plan in the offensive line meeting room. The lights would be out and the door would open up, and it would always be Taylor coming in.
"He always found time to do a little bit extra. He was always anxious to do that. Some guys would be sitting on the couch eating potato chips or whatever, and Taylor was always in that offensive line room, watching film and making notes to himself. He took almost a pro's approach to it."
But is Moton ready to be a pro now? Kenney thinks so, for a couple of reasons.
Western Michigan was a powerhouse last season, but the Mid-American Conference school's most notable victory came against Northwestern. The Broncos played just six games against nationally ranked opponents over Moton's four seasons, losing all four matchups with ranked Big Ten teams and splitting two matchups with fellow MAC teams.
Does that give Kenney pause?
"None whatsoever. I've seen Taylor take on Khalil Mack – who is a pretty good player," Kenney said, referring to the 2016 NFL Defensive Player of the Year who played for MAC school Buffalo before being drafted by the Raiders. "We've got some pretty fine football players in the MAC obviously, and that bears itself out in the draft and the performance of the athletes when the rubber hits the road on Sundays."
Kenney offered another reason to believe Moton will experience a smooth transition. Moton showed the type of position flexibility in college that the Panthers covet, starting at right tackle three years and at right guard as a junior. At rookie minicamp last weekend, the Panthers also tried Moton at left tackle.
"He has outstanding strength – both upper body and lower body – but he's very light on his feet for a big man," Kenney said. "He can dance on the outside against edge rushers. Then he played offensive guard his junior year, and he was a very dominant performer getting a push in the middle in the run game while giving us a stout pocket in pass protection."
The reports on Moton are glowing. And, by the way, Moton is positively glowing over joining the Panthers.
"I know that he was very, very excited that the Carolina Panthers called his name," Kenney said. "I know that he is very, very happy to be a part of that family, and I'm sure he's excited about getting out on the field and showing what he's made of.
"He's just a very special young man. I think he'll make a heck of a Panther."
View photos of the players in action during the second day of rookie minicamp.