INDIANAPOLIS – Three years ago, Cam Newton stood before a multitude of media at the NFL Scouting Combine and talked about dealing with the whirlwind surrounding him throughout his Heisman Trophy season.
At this year's Combine, when 2012 Heisman winner Johnny Manziel stood behind the same podium, he faced a similar set of questions. Manziel did so having gotten the opportunity to learn a thing or two from Newton.
"Being another Heisman Trophy winner, I got a chance to really reach out to him probably in the spring, summer, sometime in there," Manziel said. "I probably had a two-hour conversation just getting to talk about everything, just about the people he has around him and what has made him so successful.
"I was very eager to listen to him. He's a very fun-loving, fun-natured guy. I'm really thankful to be able to pick up the phone and call him if I ever did need anything."
If Manziel dials up Newton – who the Panthers made the first overall pick in the 2011 NFL Draft – he might get Newton's voicemail. That's because just like this time last year, Newton is attending classes at Auburn in his continued pursuit of his college degree.
"He's right in the middle of classes, and, hopefully, when he gets a little break he'll come out and spend a few days with us," head coach Ron Rivera said. "We're not going to start our (offseason training) program until April 21, so they've got a lot of time on their hands right now."
Rivera, looking back at Newton's third season, said he continues to impress as a student of the game.
"He's grown as a quarterback as far as understanding our offense and even more so understanding the opponent and how they're trying to attack us," Rivera said. "I was watching some tape the other day, just watching the progression each week with how he goes through those progressions - going to his first read, his second read, coming back to his third. Those are the things you see him doing even more than you did earlier in his career."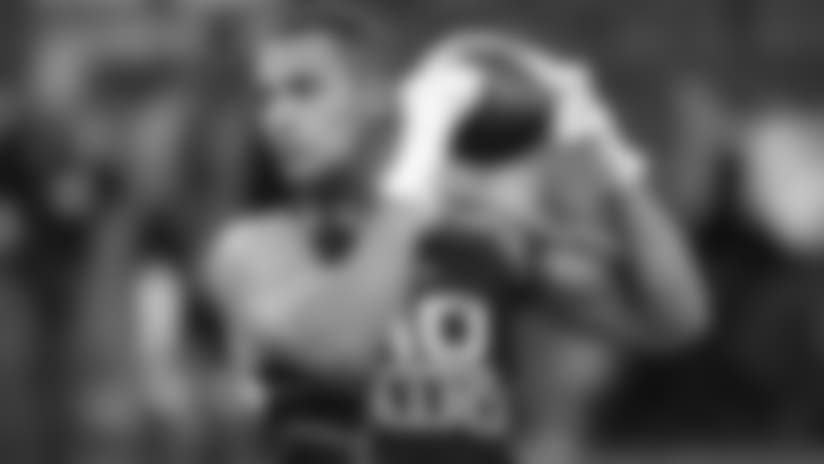 ON THE PROEHL: Wake Forest wide receiver Michael Campanaro has gotten to know former Demon Deacons wide receiver Ricky Proehl, who is now Carolina's wide receivers coach following a standout 17-year NFL career.
They certainly should be acquainted, because they're close in the Wake Forest record book.
"While I was at Wake Forest, I talked to him all the time through a text here and there after some games, things like that," Campanaro said. "He was a great receiver in the NFL and a great receiver at Wake. He's always supported his alumni by talking to guys like myself and other receivers at school."
Campanaro, projected as a middle- to late-round draft pick, holds the school record for receptions with 229. Proehl, now a quarter-century removed from his senior season, ranks third on the list with 188 catches but still holds the top spots with 2,949 receiving yards and 25 receiving touchdowns.
Campanaro was asked if he thought his game more mirrored Proehl or Panthers wide receiver Steve Smith.
"I would probably say a little bit of both," Campanaro said. "Ricky was a great route runner just watching some of his tape. He played a lot outside and had great hands. Steve seems more like a fierce competitor. He's a dog out there that will just hit you in your mouth. I don't know which one I would say."
CLOSE TO HOME: Campanaro is one of 48 wide receivers at the Combine the Panthers could consider adding. But in Rivera's mind, the Panthers "drafted" a couple of young receivers last season with the in-season additions of Marvin McNutt and Tavarres King.
"They're two good, young guys that we look at as almost being kind of like draft picks. They're young guys that we brought in and put on our roster, so we have them as we go forward," Rivera said. "They've got good size, good athleticism. Both have tremendous hands, make good decisions. Both are very smart young men."
General manager Dave Gettleman said McNutt and King could prove to be the latest example of one of his favorite adages: "Oftentimes the answer is on your roster."
"Nobody ever imagined that we would take Nate Chandler, turn him around and make him an offensive guy, and he would start nine games for us, and we'd be 7-2," Gettleman said. "No one ever imagined when I was with the Giants coming out of (training ) camp in 2011 that Victor Cruz would have that kind of year.
"Before you run around and panic, we have these young guys. We signed Marvin McNutt. We claimed Tavarres King. And we had a couple of guys on our practice squad. So before you panic, you have to look at your roster and trust your evaluation process, and a lot of times the answer is right there."
ALL GROWN UP: Gettleman first attended the Combine in 1988 as a scout for the Buffalo Bills. To say it's changed a bit would be an understandment.
"It's really amazing," he said. "When I started, Indy was three days – Friday, Saturday, Sunday – and you were out. Now it's turned into a week-long extravaganza, and you've got people that are paying 25 dollars a ticket to watch it. It's a great time for the NFL."