CHARLOTTE – Offensive coordinator Mike Shula and quarterback Cam Newton have developed a close relationship during their three years together in Carolina.
So when Newton found out he was going to be inactive for the season opener, Shula knew he wouldn't welcome the idea with open arms.
"He was down for sure at the beginning, and I would have been totally surprised and upset if he hadn't been," Shula said. "He loves game day, and when you take that away from him…
"But it's part of being a pro, and as tough as it was for him, he understood that. I know he was just dying to be out there."
Derek Anderson started in place of Newton and executed Shula's game plan with efficiency and poise. That, like Newton's reaction to sitting out, was something Shula fully expected.
"I don't think anybody expected anything different than the way he played," Shula said of Anderson's 230-yard, two touchdown performance. "Extremely happy for him because he takes a lot of pride in doing things the right way. He's been a very productive quarterback in this league and (Sunday) was a chance to prove that he's capable of winning in the NFL.
"He had a great offseason, great training camp and he really played that way. I know I speak for everybody in this organization when I say we're happy he's with us."
Aiding Anderson was the impressive play of the Panthers' offensive line, which surrendered just one sack on a broken play and opened holes for the running game to produce 113 yards. The balanced approach allowed for sustained success with play-action.
"To watch those guys do some of the things they did physically and then working together – that was a good sign for us," Shula said of the offensive line. "I know they'll continue to improve with (more) plays together."
---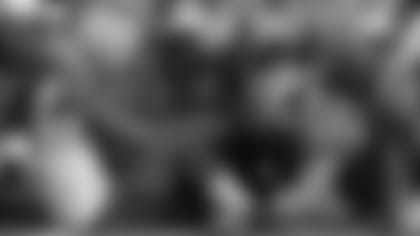 Defensive coordinator Sean McDermott characterized his unit's performance against Tampa Bay through three and a half quarters as dominant.
When the Buccaneers' offense took the field with 9:34 remaining in the game, the Carolina defense had yet to give up a point and had allowed just 145 total yards.
But Tampa Bay engineered two touchdown drives in the fourth quarter, providing McDermott plenty of teaching tape heading into Week 2.
"A lot to feel good about," McDermott said, "and just as much to get corrected for this week."
There was some anxiousness about the secondary entering the opener given all the new faces, but they meshed well with the battle-tested front seven.
"That was a little bit concerning going into the game yesterday," McDermott said. "How would it gel? How would it mesh? It was nice to see the guys come together. I thought (safety) Roman Harper played a real, real solid football game and was physical for us."
McDermott was particularly proud of his unit's work against the run. The defense limited running backs Doug Martin and Bobby Rainey to a combined 21 yards on 13 carries. The only blemish was fullback Jovorskie Lane's 54-yard run, which caught Carolina off guard.
"The point of attack defense in the run game was tremendous," McDermott said.
EALY CLOSING THE GAP: Defensive end Kony Ealy – Carolina's 2014 second-round draft choice – was inactive for the season-opener.
Defensive end is a deep position on the Panthers roster, and McDermott says Ealy is making gradual strides toward earning a chance to suit up on game day.
"(That gap) continues to get narrower and narrower," McDermott said. "He's working hard every day. He's working hard to try to close that gap and give us a chance to be a better football team and add value. We have confidence (in him)."