CHARLOTTE – When defensive coordinator Sean McDermott speaks about what it means to play Panthers football, he speaks for the entire team.
"You've got to be a physically and mentally tough football team, not only on the defensive side but in all three phases," McDermott said. "That's especially the case in the NFC South."
The Panthers' toughness helped them prevail in the NFC South, and the accompanying 12-4 record has earned them a first-round playoff bye. Here's a look at how each phase pitched in along the way.
DEFENSE: The unit allowed 301.2 yards and 15.1 points per game during the regular season, second-best in the NFL in both categories to the Seattle Seahawks.
"Well, that gives us something to work on next year," McDermott said.
The postseason is a new season, and McDermott and his staff will use the time before the Divisional Playoff on January 12 to find ways to improve. That's been the approach since Day One nearly three years ago, an approach that has paid big dividends this season.
"I don't know if it was about changing things as much as it was establishing a vision and executing our plan to accomplish that vision," McDermott said. "We're still on that pursuit, but the players that are here now and the coaches have done an excellent job of working toward accomplishing that vision."
The hard work added up to a league-high 60 sacks in the regular season, but winning football isn't always about the eye-popping plays.
"It starts fundamentally with running to the football," McDermott said. "It's not flashy, but we need to tackle – our corners need to tackle – and our defensive line needs to run to the football. That's where it all starts, and then it goes into how well we pressure the football and taking the football away."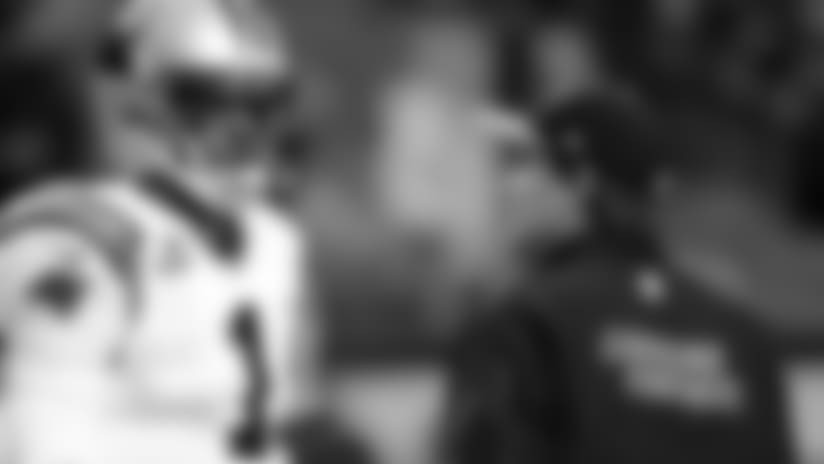 OFFENSE: The overall numbers for first-year offensive coordinator Mike Shula's unit don't stack up quite like those on defense, with the Panthers ranking 26th in total offense at 316.8 yards and 18th in scoring at 22.9 points per game.
But the offense played winning football by ranking fourth in third-down conversion percentage and seventh in touchdown percentage in the red zone while turning the ball over just 19 times – the fourth-fewest in the league.
"We've had some missed opportunities," Shula said. "It's not ground-breaking what we have to do to get it fixed. We're just a little bit off, probably more so in the passing game than in the running game.
"It's a little bit of everything, but we don't overreact."
Shula used quarterback Cam Newton's performance in the regular season finale at Atlanta as an example. He missed high on a few throws when he didn't get his feet set, but he also made a remarkable throw to tight end Greg Olsen that proved to be the game-winning touchdown.
"The really good quarterbacks find a way to keep their presence and buy time and find a guy, find a crease in there," Shula said. "That's what happened because the original routes weren't really open. That shows he's taken another step.
"Whatever it takes for us to move the ball and put points on the board."
SPECIAL TEAMS: The statistics posted by punter Brad Nortman and kicker Graham Gano were outstanding, but the duo's ability to affect field position was just as important as their raw numbers.
Nortman set team records and ranked in the top five in the NFL in gross average (47.8) and net average (41.6).Gano had the highest touchback percentage (79.7) in the NFL since 1992 and made 24-of-27 field goals and all 42 of his PATs.
"They've been tremendously important," head coach Ron Rivera said. "With Brad and his ability to punt the ball and get it inside the 10, and then with our gunners doing a great job all year, we have the ability to flip the field.
"As far as kickoff, Graham's ability to put the ball in the end zone has limited opponents' chances to score on a big play, and his consistency as a field goal kicker has been very, very good. It all gives me a lot of confidence in some decisions I have to make."