CHARLOTTE – Defensive coordinator Sean McDermott is squarely focused on the challenge that lies ahead in Seattle, but he took a well-deserved moment to appreciate the record-setting defensive effort that pushed the Panthers into the Divisional Playoff round.
Carolina surrendered 78 total yards against the Arizona Cardinals in the 27-16 Wild Card victory – an NFL record for the fewest yards allowed in a postseason game.
"A ton of credit to the coaches and players to do what they did – in a playoff game at that," McDermott said. "It was phenomenal. It's a special honor. It is something that I think all of us will remember that we were a part of it.
"The guys executed the game plan, and fundamentally we were really good. We got off blocks, we played well at the point of attack, we tackled well, we caught the football when we needed to. We got the takeaways that were important at critical times of the game. We played good team defense."
The Panthers will need to do all of those things again to give themselves a chance to win against the Seahawks.
"They are a good offense, a really good offense, and we have nothing but respect for what they do," McDermott said. "I know Ron (Rivera) was talking about (quarterback Russell Wilson being) a candidate for MVP. I would second that. He's a great player. We have to do one heck of a job on him when go up there."
---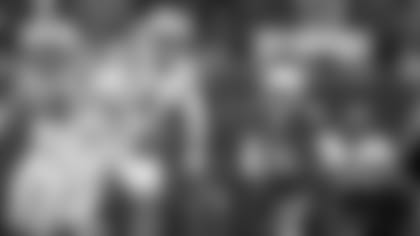 Sometimes, the opposition defends the play really well, leaving nothing open. And sometimes, quarterback Cam Newton can still make it work.
That happened twice during Carolina's opening drive of the second half, trailing the Cardinals 14-13.
The Panthers quickly faced third-and-nine from their own 21-yard line. Newton's targets were well covered, so he scrambled for 10 yards.
Three plays later, the Panthers had third-and-12. Newton again took matters into his own hands, scrambling for 13 yards.
Carolina eventually punted from the Arizona 37-yard line, but Newton's athleticism continued the drive and flipped the field. After the Cardinals went three and out and punted, running back Fozzy Whittaker turned a screen pass into what proved to be the game-winning 39-yard touchdown on the very next play.
"Cam did some really good things and made some plays where we didn't have anything, and that kept drives going," Shula said. "He played really hard. Really hard."
That same improvisational effort, along with better overall execution in the passing game, will be required to sustain drives against the Seahawks, who finished first in the NFL in total defense for the second consecutive season.
"They are so fast to the ball," Shula said. "They don't do a whole lot scheme-wise. They don't need to, because they are really good.
"There are no weaknesses in what they do. They can just let the corners play one on one out there and try to keep you outnumbered in the running game."
The Panthers are well aware of how good Seattle is defensively. The two teams have met in each of the last three seasons, and Carolina has averaged just 9.3 points per game.
"They have 11 guys on the field, just like our 11," Shula said. "We have to play better and coach better to give ourselves a chance to do what we do best."