CHARLOTTE – Since they both arrived in Carolina in 2011, offensive coordinator Mike Shula and quarterback Cam Newton have grown close.
So considering all Newton had been through after his car accident, you could understand why Shula was particularly proud of the way his quarterback played in Sunday's 17-13 win over the Cleveland Browns.
"What a whirlwind it has been for him, and he never batted an eye," Shula said. "Without sounding too condescending or fatherly, I was very proud of him because I can't even imagine. Just coming back from an injury – let alone the fact that with the dang car rolling over, it could have been a lot worse."
Overall, Shula was proud of the entire unit for grinding out yet another tough win in the fourth quarter. When it comes to "four-minute" offense in the NFL, it doesn't get much better than what the Panthers accomplished versus Cleveland.
Carolina took over at its own 20-yard line leading by four with 3:24 remaining in the game. The Browns still had two timeouts in addition to the two-minute warning to stop the clock and potentially get the ball back.
"That's a long, long time," Shula said.
The Panthers needed to sustain a drive to close out the win.
"The big thing is that our guys are executing better and playing with confidence," Shula said. "And that makes you confident as a play-caller, too."
On second-and-nine, Newton fired a strike to blocking tight end Ed Dickson for 34 yards as the clock approached the two-minute warning.
"I was really happy for Ed," Shula said. "He has quietly done a really nice job."
Running back Jonathan Stewart then ran twice for five yards, forcing the Browns to use both timeouts. On third-and-five, Stewart broke free for a game-sealing 30-yard gain.
"It was good to see. I think this time for the first time, we actually ran the clock out," Shula said.
---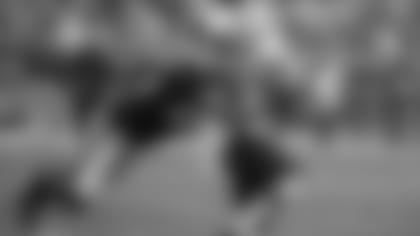 Defensive coordinator Sean McDermott's unit has dealt with its fair share of challenges.
The Panthers entered the season hoping to once again field one of the league's elite defenses. But after surrendering 30 or more points just once last year, it happened five times in the first 10 games of 2014.
It became clear "fairly early" that Carolina needed to get more speed on the field.
"You finally get a chance to see what you really have and you say, 'OK, we need more foot speed,'" McDermott said. "That was evident to most of us early. We just couldn't get the foot speed on the field, because they were in the training room."
When they returned to full strength rookie defensive backs Bene Benwikere and Tre Boston became starters at cornerback and free safety respectively. Additionally, third-year cornerback Josh Norman moved into the starting lineup in Week 5 and has blossomed as the team's top corner.
Counting on two rookies in the secondary can test a coach's patience, but the Panthers needed to insert their speed into the scheme.  
"The only way young players develop is if they play," McDermott said.
And the youth has performed well within the structure of Carolina's team-defense approach. As McDermott explained, "My strength covers your weakness, and your strength covers my weakness."
The young defensive backs have been aided significantly by improved play from the front seven – both stopping the run and rushing the passer.
During Carolina's three-game win streak, the defense has been the backbone, allowing 13.3 points per game. And the Panthers have steadily climbed all the way up to 10th in the NFL in total defense.
"I'm just really proud of the way the guys have come together," McDermott said. "You learn a lot when you go through adverse times. The main thing that's helped us is we've stuck true to our vision. The leaders have stepped up, and we are bringing along some young leaders. That's a big part of it too – developing young leaders so that the cupboard isn't bare two or three years from now.
"That's helped us get back to where we need to be."