SAN JOSE, Calif. – In search of position continuity that had eluded them in recent years, the Panthers invested consecutive picks in cornerbacks during the 2015 NFL Draft, taking James Bradberry in the second round and then trading up to take Daryl Worley in the third round.
The idea beyond feeling that they were the best players on the draft board was that if things worked out as hoped, the duo could learn together from Day One and hold down the outside cornerback spots for years to come.
Some harrowing parts of the learning curve still lie ahead of Bradberry and Worley, but they're both in a good place on their journey and are both excited about what waits around the bend.
"We've had that conversation with Coach Rivera, that this is something we could possibly be doing together for a long time," Worley said. "It's turning out to be a good combination. Having a guy that's going to grow step-to-step with you year in and year out, it's a great feeling."
At this moment, the corners are focused on the Panthers' must-win game at the Seahawks on Sunday to cap a 10-day trip to the West Coast. With injuries hitting several other position groups and with the rookies' steady play, the Panthers will enter the game feeling as good about their corners as just about any unit on the roster.
That was further solidified by the beginning of the extended road trip, when the cornerback combo didn't get beat deep by Oakland's explosive passing attack and did yeoman's work in the run game. Worley paced the Panthers with a season-high 10 tackles, including five stops on run plays that netted a total of just 14 yards. Bradberry, already recognized as a good tackler in the run game, added two tackles on rushes that netted minus-2 yards.
"He had a lot of tackles last week really coming up in run support," Bradberry said of Worley. "Our coaches ask a lot of us in that aspect. That's one of the reasons they brought us here – because they saw we can tackle."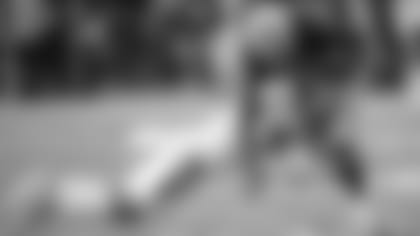 Both corners had plenty of challenges to tackle coming out of college, and they didn't actually start together until the eighth game. Bradberry established himself as starting material earlier than Worley, getting the nod alongside Bene Benwikere for the first four games.
The Panthers were ready to pair Bradberry and Worley in Week 5, but just as Worley joined the starting lineup, Bradberry exited with a toe injury. Bradberry returned for a Week 9 game at the Rams, and they've now started together and played well together for four consecutive games.
"We talked early on that we were going to take our lumps with them, and that's what has happened," head coach Ron Rivera said. "These guys are fighting, and they're balling. They're doing the best they can out there.
"This could be an exciting group as we go forward."
There still, of course, are lessons to be learned. But while they've only been starting together for a month, Bradberry and Worley have been learning together for many months, and it's paying dividends.
"We're both young, and we're both learning the same things," Bradberry said. "We're learning from each other. If I make a mistake, he can learn from it without making the same mistake himself."
Added Worley: "From Day One, we've always talked about being able to push and challenge each other. The more we work at it, the better we become, and when you become comfortable with each other out on the field, it will all come together."
Veteran Leonard Johnson, who made his Panthers debut at nickel corner the week before Bradberry returned to the lineup, sees great things for the pair.
"It's just great to see young players step up and accept roles that could be intimidating for rookies," Johnson said. "Those guys are going to be very special. They're doing a phenomenal job right now with understanding what they're supposed to do and going out and executing it.
"They have a lot of potential, and those guys are putting in the work to become great players in this league."
No, Bradberry and Worley haven't fully arrived. But yes, they're on the right path.
"The coaches remind us sometimes that we're young and that we have the chance to grow together and could be here for a long time," Bradberry said. "It's fun to think about that."