INDIANAPOLIS – The Panthers managed to rank second in the NFL with 47 sacks last season but were the only team in the top eight to not have at least one player with double-digit sacks.
Just imagine what Carolina could do to opposing quarterbacks with the addition of another dynamic defensive end.
The Panthers recently took a big first step toward that by signing 2016 sack leader Mario Addison (9.5 sacks) to a three-year contract extension (LINK), but could the next step be investing in one of the elite pass rushers that is showcasing his skills at the NFC Scouting Combine?
"We've just got to continue to improve on our defensive line, improve that pass rush," head coach Ron Rivera said. "You're looking for guys who are going to the quarterback and affect him immediately. With an edge guy, you want an explosive guy who can get around the corner and work towards the quarterback. It's all about explosiveness off the ball."
Almost everyone believes Myles Garrett of Texas A&M and Jonathan Allen of Alabama will be off the board when the Panthers pick at No. 8 overall, but here's a look at three other pass rushers getting a lot of first-round buzz.
Local college fans saw Thomas at his best in the Sun Bowl that proved his college swan song, when he seemingly singlehandedly derailed the Tar Heels' comeback bid. In the waning seconds of a 25-23 victory, Thomas exploded through the middle of the line and quickly got to quarterback Mitchell Trubisky – another likely first-round pick – to thwart a two-point attempt to tie.
Thomas often lined up in the middle of the line but is capable of lining up up and down the line.
"I can rush anywhere, play anywhere, and I play every down. I'm great stopping the run and have great pass rushing ability, and I'm very versatile," Thomas said. "I get after linemen, trying to put the fear of God in them every play – just trying to get to the quarterback every play and wreak havoc.
"Of course I think of myself as a smart guy coming from Stanford, but what I really take pride in is my relentless and toughness. I play the game with a motor and high effort."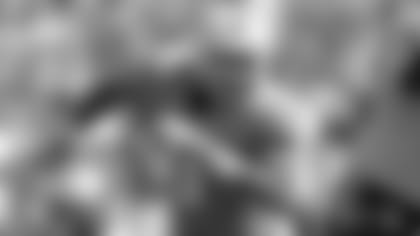 Barnett didn't speak to the media Saturday because of an illness, but his production speaks for itself.
Barnett became the first defensive lineman in school history to start the season opener as a true freshman, and his impact was immediate and lasting. He set a Tennessee freshman record with 10 sacks and then went onto record two more double-digit sack seasons, surpassing Reggie White's school record of 32 career sacks by one with a year of eligibility remaining.
Barnett is more known for having a knack for getting to the quarterback than for overwhelming physical skills, but his consistent production is something every NFL defense craves.
Of these three, Charlton might be the most talented tradition pass-rushing defensive end. He totaled 8.5 sacks as a reserve in the Wolverines' 3-4 scheme over his first three seasons, but Michigan switched to a 4-3 last season and turned Charlton loose to the tune of 9.5 sacks
"Pass rush to me is artwork," Charlton said. "With my pass rush moves, I do a little bit of everything. My arsenal is wide – I can stab, I can bull, I can spin, I can speed rush."
Charlton has been rushing up mock drafts of late, but he's not getting caught up in the hype.
"I love the recognition I'm getting, but I won't be satisfied until people say I'm one of the best pass rushers out there," he said. "The mock drafts may say one thing, but in my head I'm an undrafted free agent so I'll continue to work hard."