CHARLOTTE – Special teams is often a path onto the roster for rookies and undrafted guys. It's not a place you'd expect to see a 16-year vet with 144.0 career sacks whose bust will one day sit inside the Pro Football Hall of Fame.
But when the Panthers lined up for their two extra points and three field goals during Sunday's win over the 49ers, there was defensive end Julius Peppers crouching to the right of backup offensive linemen Taylor Moton and Amini Silatolu.
"I actually like it cause it keeps me involved," Peppers said. "I'm rotating on defense, but also offensively I'm watching. I have to pay attention because if they get in field goal range, I have to be ready to run out there, so it keeps me engaged."
The idea isn't necessarily new. Green Bay used Peppers as a wing guy on their kicking units last year. And considering he's an abnormally large human with a wingspan of nearly seven feet, it makes a lot of sense.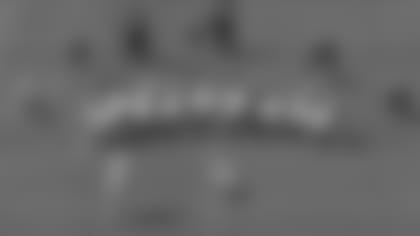 "It's a big body on the edge," head coach Ron Rivera said. "Makes it a little bit harder for people to come off the edge and make certain moves. He's just a big man to get around."
He's also abnormally athletic for someone his size, which allows for a potential fake field goal or extra point.
"I can't talk about that," Peppers said with a wry smile. "I'm just out there trying to do my job."
Astute Panthers fans should recall that back in 2004, Peppers was on the offense's goal line unit a handful of times. He was even targeted twice by quarterback Jake Delhomme. Both of those passes fell incomplete, as did this slant from Packers quarterback Aaron Rodgers in 2014. But if a toss does come Peppers' way this season, he assures his hands are "still alright."
Or if he all he does is block, the possibility he could do more is still a win for the Panthers.
"Absolutely," Rivera said, "it's something for the other team to think about."