CHARLOTTE – For the vast majority of Panthers players, Super Bowl 50 will mark their first trip to the nation's biggest sporting event, yet all the players have already experienced the Super Bowl in their own way.
Defensive end Kony Ealy has fond memories of watching defensive end Justin Tuck do his thing to a dominant level for the New York Giants in their Super Bowl XLII victory over the New England Patriots. Offensive lineman Daryl Williams vividly recalls watching Santonio Holmes' remarkable game-winning touchdown grab for the Pittsburgh Steelers in their Super Bowl XLIII victory over the Arizona Cardinals.
Other memories aren't as specific but are vivid and hold value just the same.
"I've always watched the Super Bowl with my mom and dad or my close friends," guard Andrew Norwell said. "We always get together and watch it. It's the biggest stage."
Now, Norwell and his teammates are poised to ascend that very stage – and hopefully the stage where the Lombardi Trophy will be hoisted after the game.
"It's about cherishing this opportunity and realizing they don't come around often and maximizing it," tight end Greg Olsen said while detailing his prior Super Bowl Sunday experiences. "Kind of as a fan, just sitting home and watching it, obviously it's always a bittersweet type of thing. As much as you enjoy the Super Bowl, when you're a current player and you're not in it, you always have that 'I wish it was us' mentality.
"There are 30 teams right now that feel that way, and for the first time in a lot of our careers, we're one of the two."
Eight Carolina players and 11 coaches have either played in, coached in or done both on Super Bowl Sunday, but that leaves about 40 players who will be active for the game as well as nine coaches whose previous Super Bowl experiences align with Olsen's history as an interested/jealous spectator.
Here's a look at some of their stories.
BEEN THERE, DONE THAT: "Favorite Super Bowl memory? It was my first one," tight end Ed Dickson said.
Dickson as well as left tackle Michael Oher were on the 2012 Baltimore Ravens team that capped its season with a victory over the San Francisco 49ers in Super Bowl XLVII.
"I've always been a big fan of football, so all the Super Bowls are special," Oher said. "Winning the game, I remember that being extremely special and really hard to believe."
OUTSIDE LOOKING IN: Defensive tackle Dwan Edwards spent his first five NFL seasons with the Ravens, but he was a rookie four years after their first Super Bowl and left Baltimore three years before their second.
"I was drafted in between the Ravens' Super Bowls and was a part of teams that were really hunting it," Edwards said. "But I went into free agency. I took a trip to Seattle and a trip to Denver, but it didn't work out and I ended up in Buffalo. It's tough to play on a team that's not playing as well, but then coming here and see this thing built from scratch to where it is now has been amazing. Hopefully we'll finish it up with a ring.
"This is everything – everything I've worked for my whole career."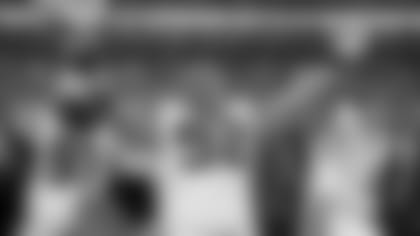 INSIDE LOOKING IN: Wide receiver Kevin Norwood understands how rare it is to be headed to his second Super Bowl in just his second NFL season.
"God is good. What an amazing feeling," Norwood said.
On the other hand, Norwood was inactive for last year's Super Bowl for the Seahawks and is expected to be inactive for the Panthers' appearance.
"It's a tease to get all the way here and not be able to play, not be able to contribute to the win," Norwood said. "Man, just let me go out there and tackle someone on special teams, but these guys deserve it. They've worked hard for it."
THE ROOKIES: "Everybody told me I was going into a good situation, and I was like, 'What do you mean?' because I didn't know much about Carolina," rookie wide receiver Devin Funchess said, thinking back to when he was drafted in the second round. "And they said, 'Just watch and see.'
"Now I'm in the Super Bowl."
Funchess is well aware that some of his teammates are set to make their Super Bowl debut more than a decade into their pro careers. But still, rookies don't truly know any other way.
"It probably hasn't really hit me yet because we're just so focused on winning the next game," running back Cameron Artis-Payne said. "Maybe when the season is over, I'll sit back and realize how special it was."