JACKSONVILLE, Fla. – As a former star at Ohio State, rookie wide receiver Curtis Samuel is no stranger to big crowds or big moments.
You'd think a preseason debut in rainy Jacksonville with the stands at EverBank Field half-full would be no big deal for the second-round pick.
But the NFL is a different beast, especially when you're trying to prove to coaches and teammates that you can contribute after missing almost all of training camp with a strained hamstring.
"When I first went into the game I was nervous," Samuel admitted. "I don't know why; I've played in front of large crowds. But so much was going through my head. My head was just racing.
"I'm usually nervous every game, but not to the point where it's like everything in my head is moving faster than my body and I can't keep up. That was the first time actually."
But Samuel's nerves eventually settled after he checked into his first NFL game.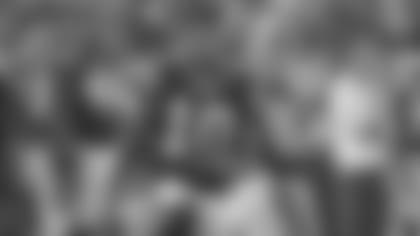 "My main thing was just trying to get back into the flow of the game," he said. "Just take my time and don't rush too much."
Samuel caught the first ball thrown his way in the second quarter – a screen pass from quarterback Derek Anderson that was stopped for a 2-yard loss. Two plays later, Anderson went back to Samuel on a swing pass for a 7-yard gain, which proved to be his longest reception of the night.
The second-round pick finished with four catches for 15 yards, and his six targets were the most for any Panther.
"I've been out for a while so the coaches wanted to see what I could do with the ball in my hands," Samuel said. "I just have to make the most out of every target that I get."
Samuel didn't turn on the jets for any deep routes – and that was by design. The Panthers weren't about to throw caution to the wind with Samuel's hamstring. But he ran a variety of short patterns and was able to experience "game speed," which takes some getting used to.
"Just getting back out there and running around a little bit, I can tell you I am not in (football) shape yet," Samuel said. "But it's coming soon."