CHARLOTTE – At this point in his career, Damiere Byrd has proven that he can threaten a defense with his speed. He used Wednesday night's preseason opener against the Texans to remind everyone.
Byrd was the star of the show, hauling in two touchdown receptions. The first was a 50-yard bomb. The second was an 8-yarder across the middle of the end zone.
"I know what I can do and I'm confident in myself," said Byrd, who finished with four catches for 98 yards and the two scores. "I know that if the ball is in the air I am going to go get it."
The deep ball is Byrd's specialty. He's got game-breaking speed, and with the score tied 7-7 in the second quarter, he burned cornerback Robert Nelson, Jr. to tilt the game in Carolina's favor.
"Me and Joe, we talked about it in the huddle," Byrd said, recalling the play. "We knew what we were going to get, so really it was just going out there and executing it."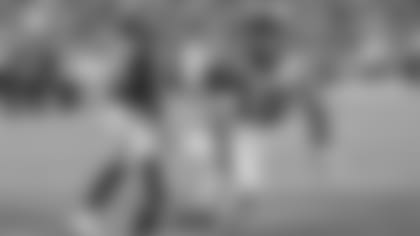 No one in the Panthers locker room was surprised by what they saw from Byrd against Houston.
This is his third season with the team, and he's flashed this game-breaking ability before. Last year, his hard work on the practice squad was rewarded when he was finally activated for his first regular season game in Week 17.
It's clear the coaching staff and front office like Byrd, but opportunities for the 5-foot-9, 180-pounder have been hard to come by.
This could be his best chance, with Ted Ginn, Jr. now in New Orleans and second-round pick Curtis Samuel – a speedster drafted in part to replace him – struggling to get on the field due to a hamstring injury.
"Coach Rivera talks about it all the time, 'Make those opportunities count,'" Byrd said. "I think I've put myself in a great position. I just have to continue to do things well."
Byrd's case for a spot on the 53-man roster was made a lot stronger with his performance Wednesday night. That's the most important thing. But the former South Carolina Gamecock certainly enjoyed doing it in front of the folks dressed in Clemson orange who came to cheer on Texans rookie quarterback Deshaun Watson.
"Definitely. The funny thing is you never really see that orange until they win a national championship," said Byrd, who pointed out he only lost to Clemson once. "But it was good to be out there and have a good game like that."
View the best photos from Panthers vs. Texans by team photographer Melissa Melvin-Rodriguez.