CHARLOTTE -- First thing's first.
It's pronounced DUH-rell.
"I get used to it," says Panthers fullback Darrel Young, who estimates 99 percent of people botch his first name with the more common DAIR-rull.
Last year, about the only folks mentioning Young's name were his colleagues on CSN Mid-Atlantic. That's because he was dipping his foot into a TV career while his football peers continued their careers. After six seasons with Washington and a training camp in Chicago, it looked like Young's time in the NFL had run out.
But that wasn't his reality.
"I've been playing since I was 6. I don't ever want to think about it being done," Young says after finishing an OTA practice with the team that gave him one more shot.
"You never want to think that it's over. You never want to say, 'I'm that old guy, I don't have what I used to have anymore.'"
Young, who turned 30 in April, came into the league in 2009 as an undrafted linebacker out of Villanova. He stuck on the Washington practice squad that entire season, but when he reported to training camp the following summer, coaches sprung a surprise. He had been moved to fullback.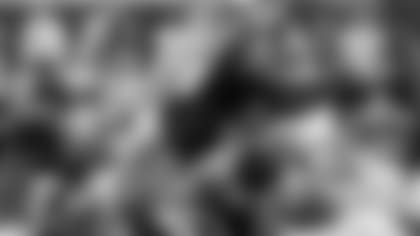 A guy who played defense at a small school turned into an NFL fullback?
That sounds a lot like what the Panthers are trying to do with sixth-round pick Alex Armah.
"He's a strong young man. If he grabs you, it's over," Young says of his understudy. "There ain't too many guys that have hands like that. He's picking up the game really good, too.
"He's doing a hell of a job. He's going to be a good football player."
At 6-foot-2, 253-pounds, Armah looks the part. But he's so raw, it's hard to see him starting in San Francisco come Week 1. That means Young, who quietly signed with Carolina in early January, is the frontrunner at a position the Panthers still value.
"Watching Mike Tolbert over the years," the 5-11, 250-pound Young says, "I like the things that he did, and the Panthers gave him the opportunity to be himself. I felt like I never was really given a chance to be in the backfield as a third-down guy. Hopefully, they'll allow me to do some things here."
During his six seasons in Washington, Young gained just 185 rushing yards with seven touchdowns on 51 carries. But as a receiver, he turned 45 receptions into 432 yards and six touchdowns.
While not an apples to apples comparison, these were Tolbert's totals over his final three seasons in Carolina: 448 rushing yards, 319 receiving yards and five touchdowns.
With guys like Greg Olsen, Kelvin Benjamin and Christian McCaffrey set to dominate targets, the Panthers probably won't give whoever's at fullback as many touches as Tolbert. But the opportunity is there for Young to put his TV career on hold for a little longer. And for folks to learn how to pronounce his name properly.
"Even the coaches (mispronounce) it," Young says. "But as long as they call me something, it's all right."
View photos from the third week of Carolina's organized team activities.