CHARLOTTE – It's what you might call a good problem to have.
Daryl Williams moved a step closer to returning to his right tackle role Wednesday, practicing on a limited basis for the first time since being sidelined with an ankle injury in Week 12. Time will tell if he's ready for Saturday's home finale against the Falcons, but the passage of time since Williams went down has allowed the offensive line to grow into a group capable of getting the job done regardless.
"It's tough. It's a good question," head coach Ron Rivera said when asked if he'd have any hesitancy about changing things up when the unit is clicking. "There's some really good continuity there, but it's good to know we've got some options. Guys playing really well right now."
Rivera said Williams and Chris Scott – who has been filling in at right guard – both took some snaps at right tackle Wednesday, an indication that Williams once healthy could resume that role.
"Hopefully he'll be OK this week, and that obviously would move Trai (Turner) back inside to his comfort level," offensive coordinator Mike Shula said. "Coach are our trainers will make those decisions, and we'll be ready either way."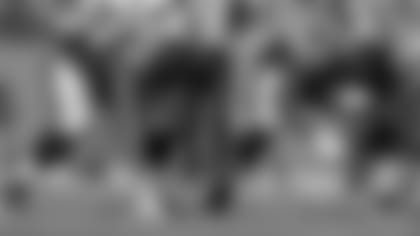 When Williams went down in the middle of the Raiders game, Turner shifted from right guard to Williams' right tackle spot – the first time Turner had played tackle since high school – and Scott took over at right guard. Later in that game, reserve center Gino Gradkowski went down with a knee injury and was replaced by undrafted newcomer Tyler Larsen. Two days later, Gradkowski and starting center Ryan Kalil (shoulder) were placed on injured reserve.
In the three games since, the Panthers have lined up left to right with Mike Remmers, Andrew Norwell, Larsen, Scott and Turner.
"It's a good group. The three guys that are still playing have always worked together, and that's a big part of it," Rivera said. "Tyler is a tremendously smart young man who really understands football and what his responsibilities are, and Chris Scott is very wily veteran who has played all five positions for us.
"You're not going to have a lot of mistakes out of those guys, and that's what we've seen the last few weeks. We've seen them play very solid football together."
Williams first entered the starting lineup in Week 4 for the first meeting with the Falcons, two days after left tackle Michael Oher went into the concussion protocol. Remmers moved from the right side to the left, and Williams moved into Remmers' spot.
That group peaked in its fourth game together – a 30-20 victory over the Cardinals – but Kalil was hurt in that game and so was the continuity. If Williams does return Saturday, Shula believes the group could pick up where it left off.
"Regardless of whether they've played a lot or are young or are high-round picks or free agents, when you get guys playing together, they're going to get better with experience," he said.
View photos of the Panthers as they prepare for their game against Atlanta.